Mirabai Ceiba :: The Quiet Hour Tour 2023 :: 16 june 2023 @Dominicuskerk Amsterdam
After the fully sold-out concerts in 2018 and 2019, we are so excited that Mirabai Ceiba will bring their unique sound and energy to Amsterdam again in 2023. The tour is named after their last album The Quiet Hour, serene beauty and the perfect antidote for our turbulent times. We're looking forward to hearing and feeling these new songs live. Tickets are available here (or below).
"We want to create this space where people can get to a quiet place within themselves, where they can really listen, then the singing or the musical interaction becomes much deeper. We need to come from silence; any creation comes first from a quiet space, from nothing."
Join us for an evening of musical enchantment, mesmerizing songs and a spiritual immersion. Let's dive into the meditative space of the heart and nourish our bodies and souls. We are looking forward to welcome you for an evening full of harmony, connection and love.
Tickets
Tickets are available with our ticketing partner Eventbrite. See our ticket page below. Follow us on Eventbrite to get notified when we publish new events, here. See our event page for other concerts we organize.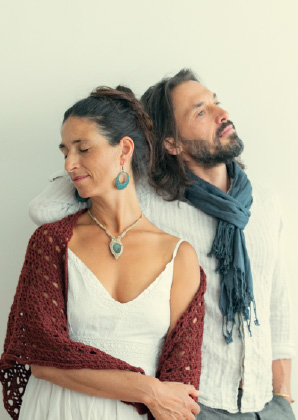 Mirabai ceiba
The music of Mirabai Ceiba draws the listener into a gossamer web of gently plucked strings, stately piano arpeggios, subtle vocal interplay, and poetic lyricism. The sound is easy to love, but hard to categorize. It's world music. It's chamber music. It's folkloric. It's devotional. But it ultimately transcends any label you try to put on it—except for "beautiful." In it, we hear the loving heart-play of two gifted musicians and singers—the husband-and-wife team of Markus Sieber and Angelika Baumbach. Together, they've created a series of acclaimed, exquisitely-realized studio albums and concert experiences that immerse listeners in a shimmering world of transcendent wonder.
The idea that people of all nations are one in spirit is deeply embedded in Mirabai Ceiba.
Markus and Angelika come from different parts of the globe. He's East German. She's of Mexican and German heritage, born in Tucson, Arizona, and raised in a small village near Mexico City. They met at a street fair during Edinburgh's Fringe Festival and quickly formed an alliance both romantic and musical. The name Mirabai Ceiba reflects the couple's pan-global perspective. Mirabai (1490-1547) was a legendary Hindu devotional singer. The Ceiba is the sacred tree of Latin America.
Along with their recordings, Mirabai Ceiba's prolific touring and inspirational concerts have also helped build a devoted global following and garner media praise.
Their concerts are joyous and loving occasions that embody the duo's profound belief in music as a universal language, uniting all the world's peoples, cultures, and traditions.
---
Music
Mirabai Ceiba has released several beautiful albums over the past years. Listen to their playlist below!
High Chai Tea House
High Chai Teahouse is a mobile teahouse that you will encounter at all our HeartFire concerts. Come home from your trip to the concert and get to meet old and new acquaintances in this dreamy Victorian ambiance. At the bar you can order the tastiest quality products from the Chai Angels.
The hand-brewed Chai Tea has grown famous, and you can only get it here. You will also find yogi tea, fresh mint, ginger and lemon tea. Not to mention all the sweet treats…. Both raw vegan and home-baked cakes, brownies and refreshing authentic drinks.
This bohemian atmosphere bar was designed by Ilona Dorgelo. The High Chai once started when Ilona made cake and chai for friends with a heartbreak. With the theater school and three-star restaurant De Librije as a background, this accidentally grew into a serious concept at our HeartFire concerts.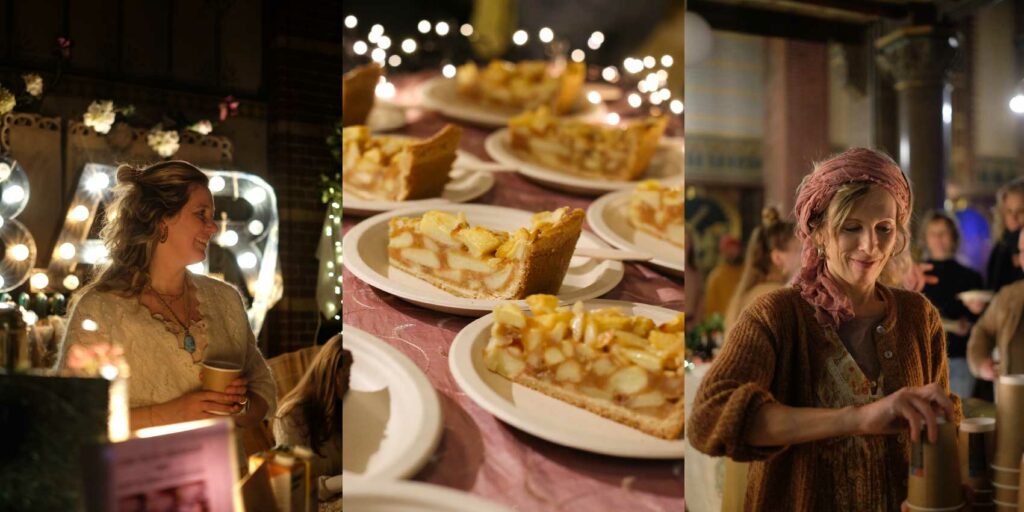 Practical Information
Mirabai Ceiba :: in Concert :: The Quiet Hour Tour 2023 :: 16 June 2023 @Dominicuskerk Amsterdam
Date
June 16th 2023
Venue
Dominicuskerk, Spuistraat 12, 1012 TS Amsterdam (entrance to the church is in the Korte Korsjespoortsteeg)
Time
19.30 (doors open at 18.30)
Tickets
Tickets are available with our ticketing partner Eventbrite here. Follow us on Eventbrite to get notified when we publish new events, here. See our event page for other concerts we organize.
How to get there
The Dominicuskerk is located 8 minutes walk from Amsterdam Central Station, so nearby parking is not easy and not advised. We advise you to come by public transport or use your bicycle. Use Park & Ride facilities if you come by car to Amsterdam. Check the use of public transport here to plan your journey.
Parking Garage
There are two parking garages nearby:
Parking Centrum Oosterdok, a 15-minute walk, Parking is EUR 5,- (for one whole day) if you book early, online otherwise EUR 25,- (day ticket) if you reserve upfront, with no reservation maximum of EUR 37,50.
Q Park Nieuwendijk, is a 5-minute walk (very close by but expensive), with all the roadworks active in the city center not easy to get out of the city from this parking after the event ends.
What to bring
In front of the stage there will be place for a maximum of 80 people to sit on a cushion on the floor. We will create a space where you can put your shoes and bags as we want to leave this space as empty as possible. Please bring your own meditation cushion. Unfortunately, there is no space to lay out your yogamat or other materials then a small (meditation) cushion. Come in time if you want to sit on the ground (and dance/move when the energy rises). In the rest of the church there are plenty of chairs and banches to sit on.
Facebook Event
Updates can also be found on our Event page on Facebook, here.
HeartFire Community
Join our growing community and stay informed about our HeartFire events. Subscribe to our newsletter, like our HeartFire page on Facebook and/or on Instagram. Follow us on Eventbrite to get notified when we publish new events, here. You can also follow us on Spotify to listen to playlists we create, here.

---