Leonie Bos :: Album Release Concert :: 10 March 2023 @Dominicuskerk Amsterdam
Tickets
Tickets are available with our ticketing partner Eventbrite, here or below. Follow us on Eventbrite to get notified when we publish new events, here. See our event page for other concerts we organize.
---
About Leonie Bos
Leonie Bos is a sacred singer/songwriter from the Netherlands, alchemizing her insights of life into music, her own medicine. Her heart opening music will bring you closer to yourself, as she shares her own inner journey through the sound of music. With her witty personality and grounded being it is easy to relate to her, as she includes all of life. The darkness and the light.
'I don't believe great artists have to suffer, but many are being brought to the core of the deepest misery to dig up the brightest diamonds'
In 2020 Leonie has been a great support to many with her online morning live streams. Every single day for at least a year, she sang her songs live online, still to this day every Monday morning. A need to keep her own daily practice going and to share her heart through music with others has resulted in the new album Finally here. With collaborations from Tijn Touber and praam.
Besides performing Leonie guides Inner Voice Workshops to teach about the great potential our voice carries. A beautiful new door has recently opened up in collaboration with Danielle Doeve, where they bring their work to the corporate scene in female LeadHERship training. New bridges are being built as we speak. Leonie strongly feels the importance to bring these teachings and this music to the bigger crowd, it's time to rise!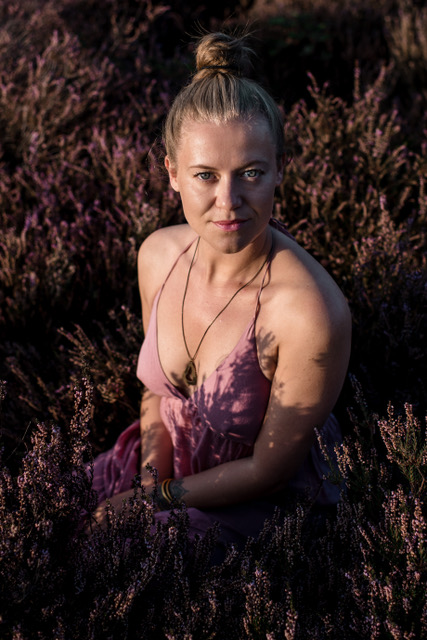 ---
Leonie Bos will be joined on stage by Tali Gross, Gil Lopez, Terence Samson and praam.
Tali Gross
Growing up in a Jewish family of musicians, music has always been one of the ways in which Tali could express her soul. Through her violin and voice, she brings an experience of sensitivity and the possibility of connection with something higher. The music that comes from her is a form of prayer, devotion and surrender to the divine and connecting with the soul. Through a deep connection with the here and now and with her fellow musicians, she can improvise to bring out the sacred. And to bring you as the listener to your inner essence.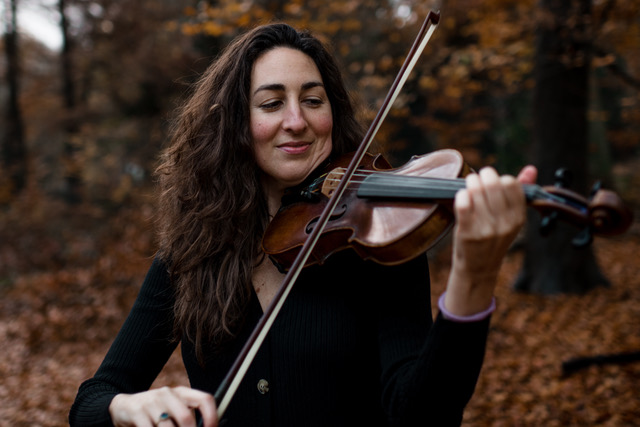 ---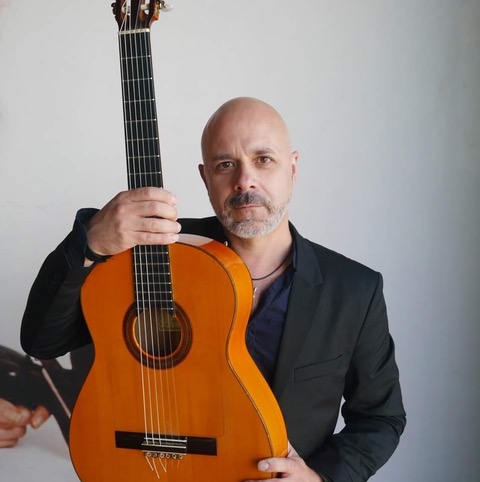 Gil Lopez
A very talented producer/engineer, composer/arranger and guitarist. The producer of the album Finally Here and responsible for the many instruments that you will hear. He is also connected to Belle and the Beats, Naked Ears, Mama DC, and previously Gaia Nostra, 1st Avenue, Bayuba Cante and Jiga Voo. He has worked with Joseph Bowie (D-Funked), Minyeshu Kifle, Bolland & Bolland, Okkie Huijsdens, Jaap Eggermont, Praful, Roel Calister, Robby Valentine, Loona, Ernst & Bobbie, Vinzzent, French German, Tarhana, Bayuba Cante, KUENTA, Loona, Jop Joris, Tijn Touber, Rene van Collem and many other professionals.
---
Terence Samson
An amazing percussion and sound artist with many skills in various instruments. Each tone comes from a place of intuitive resonance. He will be playing instruments from all over the world such as the Nigerian Udu, South Indian Kanjira, Persian Framedrum and all kinds of other sounds and instruments. Since 2020 Terence is part of the band and you will rarely see a concert without him. There are no words needed when it comes to creating music together.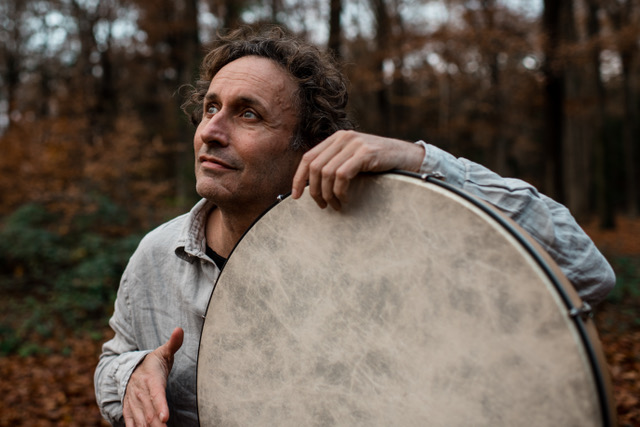 ---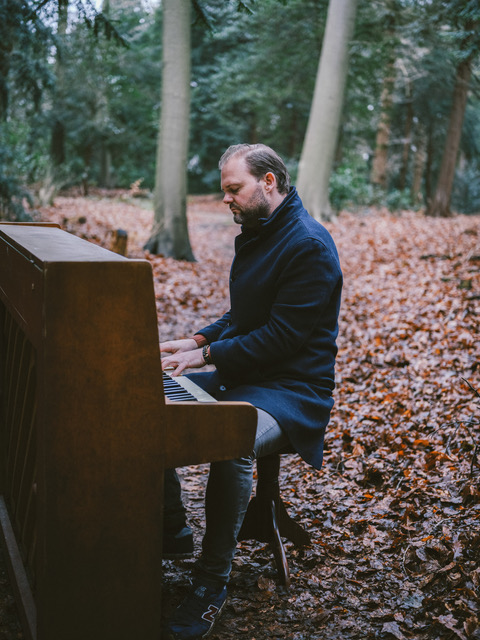 praam
Is a Dutch composer and multi-instrumentalist based in Utrecht. Initially trained as a drummer, Praam abandons all boundaries of classical music to play based solely on feeling. This is in hope of inspiring listeners worldwide to tune in to their capacity to feel, perceive and experience (also captured in the English word 'sentience'), as opposed to being stuck in rational thoughts.
The purpose of the music is to allow listeners to escape from the frenetic everyday reality to focus on what they feel rather than what they think. Praam's pieces are characterized by calmness and a narrative structure with open chords and notes. The (solo) piano plays a major role in this, as it is an honest and sincere instrument where the notes and the silence between the notes ensure that the emotion is translated as purely as possible. After the release of his first three solo piano albums (sentience, perceptionism and luminance), praam broadens the instrumentation in his pieces without losing sight of the calming tone. During live performances, praam will therefore invite other musicians to play pieces from his upcoming album between two poles.
---
Music
Leonie Bos has released two albums to date 'Live & Acoustic' and 'Finally Here', her new album with a collection of mantra songs and sacred songs.
High Chai Tea House
High Chai Teahouse is a mobile teahouse that you will encounter at all our HeartFire concerts. Come home from your trip to the concert and get to meet old and new acquaintances in this dreamy Victorian ambiance. At the bar you can order the tastiest quality products from the Chai Angels.
The hand-brewed Chai Tea has grown famous, and you can only get it here. You will also find yogi tea, fresh mint, ginger and lemon tea. Not to mention all the sweet treats…. Both raw vegan and home-baked cakes, brownies and refreshing authentic drinks.
This bohemian atmosphere bar was designed by Ilona Dorgelo. The High Chai once started when Ilona made cake and chai for friends with a heartbreak. With the theater school and three-star restaurant De Librije as a background, this accidentally grew into a serious concept at our HeartFire concerts.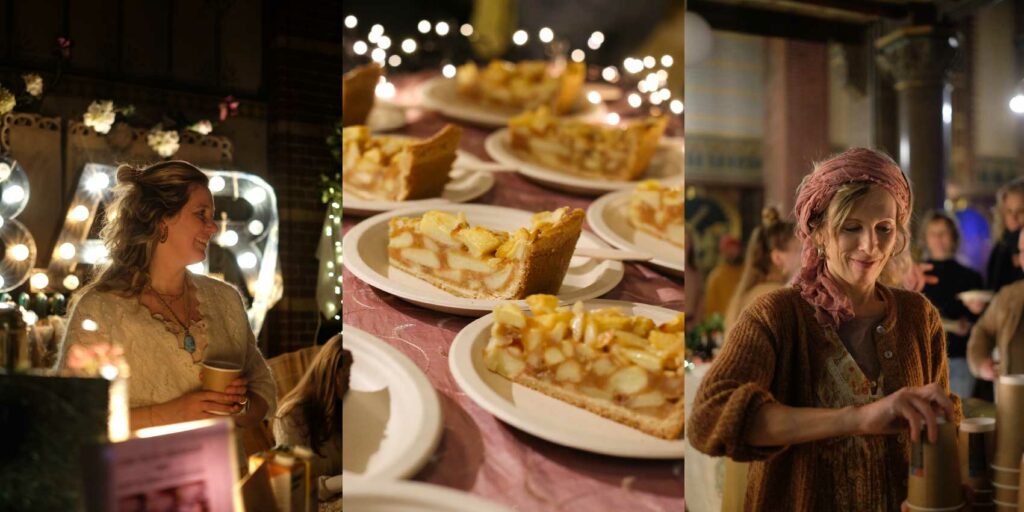 ---
Practical information
Leonie Bos :: Album Release Concert :: Live in Amsterdam :: 10 March 2023 @Dominicuskerk Amsterdam
Support Opening by praam
Date
March 10th, 2023
Venue
Dominicuskerk, Spuistraat 12, 1012 TS Amsterdam (entrance to the church is in the Korte Korsjespoortsteeg)
Time
19.30 (doors open at 18.30)
Tickets
Tickets are available with our ticketing partner Eventbrite here (or click the button below). Follow us on Eventbrite to get notified when we publish new events, here. See our event page for other concerts we organize.
How To Get There
The Dominicuskerk is located 8 minutes walk from Amsterdam Central Station, so nearby parking is not easy and not advised. We advise you to come by public transport or use your bicycle. Use Park & Ride facilities if you come by car to Amsterdam. Check the use of public transport here to plan your journey.
Parking Garage
There are two parking garages nearby:
Parking Centrum Oosterdok, a 15-minute walk, Parking is EUR 5,- (for one whole day) if you book early, online otherwise EUR 25,- (day ticket) if you reserve upfront, with no reservation maximum of EUR 37,50.
Q Park Nieuwendijk, is a brisk 5-minute walk (very close by but expensive), with all the roadworks active in the city center not easy to get out of the city from this parking after the event ends.
Facebook Event
Updates can also be found on the Event page on Facebook, here.
Join the HeartFire Community
Join our growing community and stay informed about our HeartFire events. Subscribe to our newsletter, like our HeartFire page on Facebook and/or on Instagram. Follow us on Eventbrite to get notified when we publish new events, here. You can also follow us on Spotify to listen to playlists we create, here.
---