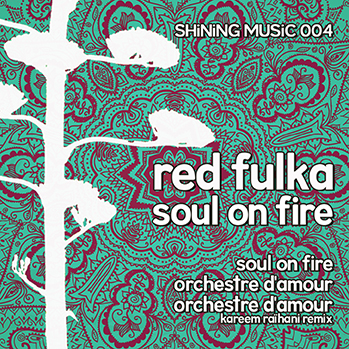 New Red Fulka single released today!
HeartFire's other adventure SHiNiNG MUSiC has released the new single Soul On Fire by Red Fulka today. The single consists of three fantabulous tracks created by Praful and Kareem Raihani. You can read more information about this release here. The release is also available on Deezer, iTunes, Spotify and lots of other digital music outlets. Enjoy!

Red Fulka
RED FULKA plays an electrifying fusion of divine melodies, deep dance floor grooves, tribal power, electronic sparks, East meets West and Balearic beauty. At the base of this group are world-renown multi-wind-instrumentalist Praful and Moroccan-Dutch producer/beat master/DJ Kareem Raïhani.
About SHiNiNG MUSiC
As SHiNiNG MUSiC we bring sacred music to the dancefloor. As from November 2014 we're releasing two or three tracks of different artists every so often. SHiNiNG MUSiC is a collaboration between HeartFire & Kareem Raïhani. You can listen to and/or buy all our releases here on Bandcamp. We support Bandcamp as you can download the tracks in every format you might possibly desire (.wav, .mp3, .flac etc.). Of course you can also listen to/buy our releases on all other platforms as Spotify, Deezer or iTunes.
As HeartFire we have also compiled a playlist of music from other artists we like, you can find this playlist here.