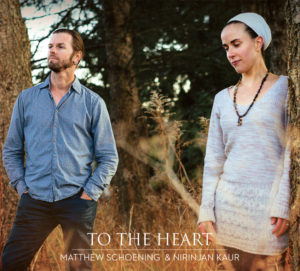 New Music #4: To The Heart A new album by Matthew Schoening and Nirinjan Kaur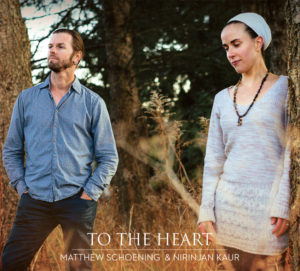 Wonderful news from Nirinjan Kaur & Matthew Schoening. On November 10, 2017 they will be releasing their new album 'To The Heart'. HeartFire produced their most recent concert in Amsterdam to date in 2015 (here). If they decide to go on tour in 2018, we'd love to host them again!
The new album consists of 7 newly composed tracks co-written by Nirinjan & Matthew. On the album they are also joined by Jeff Pevar (guitar) and Tripp Dudley (percussion) on some tracks. For those who have attended more events of HeartFire in the past, Tripp Dudley was on tour with Simrit in 2017 and played on her Amsterdam concert in 2017. To The Heart was produced, recorded, and mixed by Matthew Schoening. You can have a listen the album, here.
More info on their website, here or below.
Although Matthew and Nirinjan come from different backgrounds and appear quite different on the surface, deep down they have at least one common goal and desire: to experience life straight from, and back to the heart. Through this intention, not only have they established a powerfully deep relationship musically, but also in friendship.
Through quieting their minds, dropping their stories, holding themselves accountable, and dropping into their hearts, they have been able to deepen into greater understanding, appreciation, and respect for each other.
Through honesty, authenticity, compassion, and seeing challenges through to the end, accurate, functional, and loving relationships are built. When we drop our stories and concepts of separation, and drop into our hearts, we all have the ability to make this world a better place. This transformation starts from within ourselves, as we travel straight "To The Heart".
Some quotes on the new album
"A breakthrough to the soul, vital to  life, essential in these times" – Guru Singh, Kirtan Artist, Kundalini Yoga Teacher –
"The combination of Matthew and Nirinjan is sheer bliss!" – Jeff Pevar, Musician (David Crosby, Ray Charles, CPR) –
"This masterpiece can truly transform the mind games into miracles" – Karena Virginia, Yoga Teacher, Author –