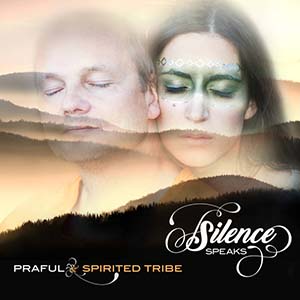 New Music #1: Praful releases new album 'Silence Speaks'
Praful is working on a special new project. Together with some of his favourite musicians he went into the studio and came back with enough material to fill three (!) albums. The first album of this project is called 'Silence Speaks' and will be released on June 17. This new album is available on iTunes and Spotify but also via Bandcamp.
Below you can find a taster of this album's new music. The second album 'Call of the Beloved' will be released on October 15 when Praful & Spirited Tribe will have their presentation in the wonderful Tobacco Theater in Amsterdam during their concert.
A few words from Praful on the new album:
"For a few years, I've had the dream to gather some of my favourite musicians and record in a big, inspiring studio. I was longing to invoke and record the kind of magic, inspiration and spontaneity that we experience during concerts. Like back in the 'old' days, in the last millennium, when there was no way of recording other than playing all together, instead of using an overdubbing and internet sharing process which is so common now in this digital age.
In January 2017, we spent 4 days in Fattoria Studio near Osnabrück, Germany: 6 musicians, a love support team, a cameraman and a sound engineer. The plan was to record both new compositions I had especially written for this project, as well as give lots of room to improvise and create entire pieces out of the moment. The love support team of 4 goddesses was there to support us, feed us, hug us and be there physically inside the studio doing Yoga, Massage and Healing while we are playing. My hope was, in this field of love, magic would happen and divine inspiration would come kissing us.
What happened during those 4 days was beyond all expectations and belongs to my most beautiful and joyful experiences in music and friendship – we became a truly Spirited Tribe. All that these sonic diamonds needed was a little polishing, adding a few voices and extra elements. So much music was recorded in this short time, that it is released on 3 CDs with each a different theme. This album is the first one of the trilogy, with the most delicate, soft and silent pieces put together. All of this was purely improvised, nothing pre-composed. It was born from and can be used for Massage, Healing, Yoga and Meditation. It is Silence Speaking.
This new album 'Silence Speaks' is set for release on June 17, 2017.