Woven Kin in Concert Van Houtenkerk Amsterdam Weesp 8 april 2022
We're proud to announce the concert of Woven Kin in the beautiful Van Houtenkerk in Amsterdam Weesp on April 8th 2022! Ticketsales starts March 11th, 2022 (09.00 CET), here (or the button below).

What a joy to welcome Springtime with a truly beautiful concert with Woven Kin. Let your heart be touched by their mesmerizing songs that will bring you a deep feeling of inner peace.
It will be our very first HeartFire concert of this new year and we would love to welcome you all in the magical wooden Van Houtenkerk in Weesp!
Woven Kin
Based out of Co. Kerry, Ireland and New Hampshire, USA, Ash and Siobhán come together for the harmony-centered melodies of Woven Kin. Their songs are dreamscapes and journeys, tradition and new ground.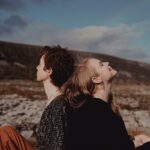 Woven Kin are:
Aisling Urwin // Harp, Synth, Guitar & Vocals
&
Siobhán Moore (aka Ajeet) // Bodhrán, Whistles, Guitar, Vocals
Their debut album Hibernate was recorded in the surreal middle months of 2020. We dove deep into our inner worlds during this time and emerged with a record that travels between worlds unlike any we've felt before.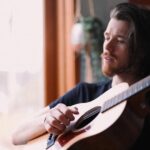 Woven Kin will also be joined by David Howley on guitar, bouzouki, bass and vocals. He is a multi-instrumentalist, songwriter, and recording artist from Co. Galway, Ireland.
David has been at the forefront of Irish guitar, voice and mandolin for over a decade. An award-winning vocalist and holder of multiple Billboard #1's, he has performed with The Chieftains, Eileen Ivers, Carlos Nunez, Billy Strings, Bela Fleck, Altan, Nitty Gritty Dirt Band, Woven Kin, Ajeet and Mumford & Sons, amongst others. In 2011, David founded We Banjo 3 and since has gone on to play Irish folk music around the world.
David is currently recording his first solo record, produced by Ajeet. He will also be the support opening for Woven Kin and will join them on stage during their concert.
Music
Woven Kin recorderd their debut album Hibernate in 2020 during the months of lockdown. On January 8th 2021 Woven Kin released their debut album. You can listen to Hibernate on Spotify.
Practical Information
Woven Kin in Concert 8 april 2022 Van Houtenkerk Amsterdam Weesp
Support Opening by David Howley
Date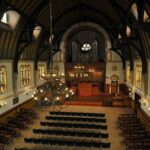 April 8th, 2022
Venue
Van Houtenkerk, Oudegracht 69, 1381 XX Amsterdam Weesp
Time
19.30 uur (doors open at 19.00)
Tickets
Ticketsales starts March 11th, 2022 (09.00 CET), here or below.
Travel
The Van Houtenkerk is located in the centre of Weesp, in 15 minutes walking distance of the Weesp trainstation. The Weesp trainstation is a 15 minute trainride from Amsterdam Central Station. Although there is some parking space available near the venue, we advise you to travel with public transport. Check the routedescription and use of public transport, here. For more information about parking, check here.
Facebook
Updates also in the Facebook event page, here
HeartFire Newsletter
Want to stay informed about our HeartFire events? Subscribe to our newsletter, like our HeartFire page on Facebook and/or on Instagram.