Snatam Kaur in Concert
Into The Light Theater Amsterdam 22 June 2022 EXTRA Concert
Grammy nominated Snatam Kaur will give an extra concert on June 22 in Theater Amsterdam! Ticketsales has started, here or via the button below.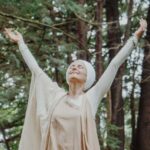 Snatam will touch many hearts & nourish our souls with her divine voice and radiant spirit. She will be accompanied by Grecco Buratto, Ram Dass Khalsa & the amazing Sukhmani Rayat on tabla.
"So excited that we will be touring in Europe again! If you have an opportunity to come and join us at one of our concerts on this tour – they are concerts in the traditional sense of music and singing – however something deeper is happening. There is an opportunity for us to connect with Light and to Heal. At times we are in silence, at times we are chanting at the top of our lungs. Perhaps most importantly is that we have the opportunity to collectively pray, for healing of each heart and for our world. Now more than ever, it is important for us to hear our collective voice in songs of praise to the One. So please join us and join each other in the practice of sacred chant."

Love,
Snatam Kaur
Snatam's concert tours bring her joyous, uplifting music to audiences everywhere as she performs compositions from her new album Beloved and much-beloved songs from her rich catalog of classic world devotional CDs. Timeless Snatam Kaur recordings such as Prem, Grace, Anand, Liberation's Door and Light of the Naam, have brought inspiration and a deep sense of peace to listeners worldwide with their captivating blend of traditional sacred mantras and expansive musical settings blending Eastern and Western influences. But the best way to experience the music, warmth and wisdom of Snatam Kaur is live in concert.
"The concert is an opportunity for people to be awakened to the power of mantra," she says; "to fall in love with mantras and be healed by them. With these concerts I hope to connect people with these mantras so that they get a sense of their own intrinsic light and love. I know for myself that chanting together in these settings is super healing and super powerful for relieving stress, tension and that feeling of being overwhelmed that I think is pretty common for in this day and age. It's a way for people to come and find that sense of peace again."
NL: Eindelijk is het weer zo ver Grammy nominated Snatam Kaur & band komt terug naar Nederland! Concert, chant, feest, muzikale groep meditatie, een yoga les in melodie…wat is nu eigenlijk de beste manier om een live concert van Snatam Kaur te omschrijven? Het is dit allemaal en nog veel meer…..
Snatam Kaur is een bezielde zangeres en violiste, een vrouw met een zachtheid die elk mens in het hart raakt. Snatam's goddelijke melodisch songs, gebaseerd op traditionele Sikh mantra's worden naar een hoger niveau gebracht door de Engelse verzen die de betekenis van de "heilige klanken" uitdrukken. Dit helpt het publiek om zich er ook emotioneel mee te verbinden.
Snatam begeleidt zichzelf op harmonium, gitaar en viool. Vaak brengt zij haar publiek in pranayama (yogi ademhaling) of laat ze iedereen rechtstaan voor wat stretching, wat dan vaak uitmondt in een "sacred dance". Tegen het eind van de avond ken je het grote cosmische geheim: devotionele muziek is geweldig. Sat Nam!
Music
Snatam Kaur has released several albums over the years. You can listen to her album Beloved below. On Spotify you can listen to (most of) her work. There are physical cds available for purchase during the event (no pin machine available).
Practical Information
Snatam Kaur – Into The Light – In Concert @Theater Amsterdam June 22, 2022
Date
June 22, 2022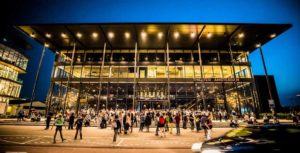 Venue
Theater Amsterdam, Danzigerkade 5, 1013 AP Amsterdam
Time
19:30 – 22:00 (doors open at 18:00)
Tickets
Ticketsales has started. Click here for tickets (link will open in a new window).
Merchandise
Cds will be sold in the lobby. There is a pin machine available.
Public Transport
From Amsterdam Central, bus 48 or 248 stops at the end stop Koivistokade at Theater Amsterdam. You get off at the corner of Koivistokade and Danzigerbocht. Travel time from Amsterdam Central Station is approximately 25 minutes.
The departure stop for buses 48 and 248 is located on the IJ side of Amsterdam Central Station. From the Kovistokade stop it is about a 2 minute walk to the entrance of Theater Amsterdam.
Check the Routedescription and use of public transport, here.
Car Parking
You can park in the parking garage Minerva Parking located next to Theater Amsterdam. The entrance is located at the intersection of Koivistokade/Minervahavenweg (1013AP) in Amsterdam. The costs of this parking are € 2.50 per half hour or € 30,- for a whole day from Monday to Saturday. On Sundays the costs are € 3 per hour or € 20 for a whole day.
Other options for parking garages near the Theater Amsterdam:
Houthaven Parking, info here.
Parking Minervahaven, info here.
or choose Parking Centrum Oosterdok located near Amsterdam Central Station, info here. From here you have to take public transport to the venue (circa 25 minutes).
Check the Routedescription and use of public transport, here.
Park & Ride
You can also park your car at a Park & Ride, if you want to save some parkingcosts.
Facebook
Updates also in the Facebook event page, here.
HeartFire Newsletter
Want to stay informed about our HeartFire events? Subscribe to our newsletter, like our HeartFire page on Facebook and/or on Instagram.