SHiNE Special with Kareem Raihani and Avi Adir live in concert!
At this special edition of SHiNE we celebrate the Autumnal Equinox with each other. Days are getting shorter and shorter and nights are getting longer and longer: We love that at SHiNE!

We have invited the magical Avi Adir with his Trio Aya to invoke the welcoming harvest time with us! Trio Aya consists of singer and master instrumentalist Avi Adir, percussionist Terence Samson and cellist Lucas Stam. They play and improvise abundantely. From deep meditative music to ecstatic groovy rhythms. A devotional co-creation that will open your heart, touch your soul and move your body.
After this sacred musical journey and warming up Kareem Raïhani will invite you with his heartwarming melodies and adventurous beats to the dancefloor where you can surrender to the dance in whatever way it comes. Let yourself be danced!
SHiNE is not a SHiNE without the mindblowing, flowing and stunning visuals from Morris Mórr, visualist. Of course he will join us too to create magic with Kareem.
You are invited to celebrate this harvesting time together and to SHiNE! Buy your tickets online here and share the event on Facebook with your friends and loved ones!
About Kareem Raïhani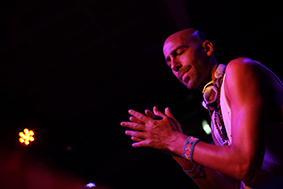 Shifting devotional music into dance. With his unique mix of Tribal-Afro-Shamanic-Disco-Tantric-Gypsy-Techno-Sufi-Dance, Kareem merges like no other different styles of dance music into a happening of body shaking rhythms, shamanic ceremonies, tantric beats, heart opening sounds, spiralling melodies, deep connecting mantras and contagious grooves. Being close to the heart and Mother Earth, respecting ancient knowledge and conscious of modern technology.
In many countries Kareem is considered the DJ that can merge deep and devotional music with ecstatic dance celebrations. Therefore his live set contains many of his own productions, edits en remixes.
With more than 90 performances a year, Kareem's DJ-sets are setting dance floors on fire! With his wild & divine ecstatic dance journeys, he is always reaching for that moment when the trance kicks in, the dancer becomes the dance, celebrating life through rhythms, sounds, movement and expression.

www.shiningmusicibiza.org
www.mixcloud.com/kareemraihani
of more info on Kareem here or at kareemraihani.nl.
About VJ Morris Morr
Morris Mórr synchronizes and syncopates live-visuals — in parties, concerts and festivals in the Netherlands, Brazil and beyond. He works with different musical genres. Instead of trying to build his own signature, Mórr transverses styles to enhance the live experience, creating a symbiosis with the sounds that can only exists here-now. More info on Pablo Idas aka VJ MORRIS MÓRR here.

About Trio Aya
Avi Adir, Lucas Stam & Terence Samson met in 2006, while playing for the Namaste music festivals. During that time they gave concerts around the European summer festival season and started with the creation of Trio Aya. They play and improvise an authentic performance of grooves and melodies, creating unique and touching music. Lucas plays Cello, while Avi sings and plays the Greek Bouzouki together with a variety of flutes from around the world including the Indian Bansuri, the Japanese Shakuhachi, the Egyptian Ney, and the Silver concert Flute. Terence plays a variety of percussion instruments such as the Frame Drum, Udu, Darbuka, and Kanjira.
Avi Adir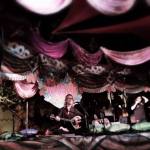 Avi is a singer and multi-instrumentalist from Amsterdam. Traveling the world and sharing a flow of deep meditative music, using his ancient voice and a variety of instruments, like the Indian Bansuri, Armenian Duduk, Greek Bouzouki, Japanese Shakuhachi, Egyptian Ney, Silver flute and Native American flute. Avi started singing and playing guitar since the age of twelve, and grow up as a songwriter and performer. In his twenties he got into the adventure of making Bamboo flutes, studying Indian Raga music with Hariprasad Chaurasia, and expending his voice through sounds and colours of new instruments. More info on Avi Adir here.

Music is my tool to tune with my real nature. I'm here to share the radiance waves of the Divine force of life, which are flowing through. – Avi Adir

Terence Samson
Terence is a percussion player with a special focus on percussive melody and sound. He is a musician with a strong feeling for spacious rhythms, played and created with different instruments. Always trying to create more flow into a song. Terence creates his music and sounds inspired on the rich Indian, African and Brazilian musical cultures, instruments and rhythms. As a performing artist Terence Samson combines ethnic music with new fresh sounds, rhythms and melodies. He loves mixing and twisting different musical flavours, styles and traditions. Some of the favourite instruments Terence Samson will play: Cajon, Pandeiro, Kanjira, Udu, Tabla, Frame drums and Hang. Also flutes like Bansuri and overtone flutes and lot's of sounds and small percussion instruments.
Lucas Stam
Lucas has played the cello since the age of six. Following his studies (classical) at the Rotterdam Conservatory he applied himself more and more to light music. In doing so he joined the string ensemble of the German rock star Herbert Grönemeyer, with whom he has made various European tours. Additionally he has developed into an experienced studio musician and has participated in recording sessions for artists including Grönemeyer, Nelly Furtado, Klaas Berings, Anne Chris and Odeke de Koning. Lucas' passion lies with world music and improvisation. He performs regularly with DJs, has recorded a CD with his own compositions for voice and cello, and is a founding member of Tango Aliado. He also plays in a string quartet specializing in contemporary classical music.
Practical Information

Date
September 19th, 2015
Location
Club Lite, Jan van Galenstraat 24, 1051 KM Amsterdam
Schedule
19:00 Conscious Diner
19:30 Doors open for the live concert
20:00 Live Concert with Avi Adir, Terence Samson and Lucas Stam (Trio Aya)
21.00 SHiNE danceparty with Kareem Raïhani & Visuals by VJ Morris Mórr
02.00 End
Tickets
Ticketsale has started online:
€ 19,50 Live Concert & SHiNE Danceparty with Kareem Raïhani (€ 22,50 @the door)
€ 12,00 SHiNE Danceparty with Kareem Raïhani (€ 15,- @the door)