SHiNE, every 3rd Saturday of the month at Club Lite
Every 3rd Saturday of the month we, together with Kareem Raïhani, organize his club evening SHiNE at Club Lite Amsterdam. On every edition of SHiNE we create a special program with:
A live concert, a film screening or another co-creation to start the evening with
The SHiNE Danceparty with Kareem Raïhani and visuals by VJ Mórr
SHiNE is a co-creation of HeartFire & DJ/Producer Kareem Raïhani.
About Kareem Raïhani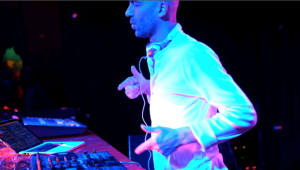 With his unique mix of Tribal-Afro-Shamanic-Disco-Tantric-Gypsy-Techno-Sufi-Dance, Kareem merges like no other different styles of dance music into a happening of body shaking rhythms, shamanic ceremonies, tantric beats, heart opening sounds, spiralling melodies, deep connecting mantras and contagious grooves. Being close to the heart and Mother Earth, respecting ancient knowledge and conscious of modern technology. More info here or at kareemraihani.nl.
About Shining Music
The new label from Kareem Raïhani & HeartFire. On a regular base SHiNiNG MUSiC will release new music with mantra beats, shamanic dance rituals and shining melodies! More info here or at shiningmusic.org.
Want a listen?
Practical Information

Date
August 15th, 2015
Location
Club Lite, Jan van Galenstraat 24, 1051 KM Amsterdam
Schedule
20:00 Doors open
20:30 SHAKE iT! workshop with Ronja Andersson
21.00 SHiNE danceparty with Kareem Raïhani & Visuals by VJ Morris Mórr
02.00 End
Pablo Idas aka VJ MORRIS MÓRR
www.pabloinmotion.com
Tickets
Ticketsale has started online:
€ 12,00 SHiNE Danceparty with Kareem Raïhani