Sacred Earth in Concert Zuiderkerk Amsterdam 5 october 2019
Inner Peace and HeartFire Delightfully present Sacred Earth in Concert on October 5th as part of the Inner Peace Conference 2019. Australia's own & internationally renown Mantra Artists Sacred Earth (Prem & Jethro Williams) will give a beautiful and expansive concert at the Zuiderkerk in Amsterdam. Music for Inner Peace! Ticketsales has started, here.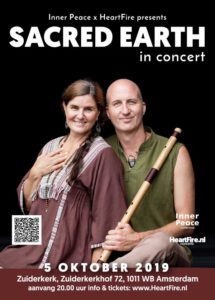 Uplifting. Ancient Mantra's, soaring flutes, beautiful soothing melodies & harmonies that transport you to a state of deep peaceful bliss. Prem & Jethro travel the world with the intention to share music that touches the heart of the listener in the deepest place and to offer a space in which we can all listen deeply to the wisdom of our hearts and remember our purpose on this beautiful earth. Having sold more than a quarter of a million albums, they are Australia's top-selling Mantra artists…
Prem with her scoring vocals and ambient keyboards accompanied by the Jethro's vocal harmonies and soothing instrumental melodies, playing shakuhachi (Japanese flute), Indian Bansuri, Irish tin & low whistles and acoustic guitar.
Anyone who's ever experienced Sacred Earth perform live knows it's something special. It's more than just an ambient music concert – it's an exceptionally moving event. Tears flow, smiles spread and a profound sense of peace pervades the entire space. It's a rare occurrence in today's stressful society, which is why Sacred Earth's concerts are often sold out. People return again and again to be transported back to that place of tranquillity, to feel a connected-ness with the deepest aspects of the self and all things through the expansive nature of the music.
Sacred Earth's music truly is like balm for the spirit. We are looking forward to come together and sing our hearts wide open!
"When we gather together under the banner of peace and share our hearts through the vehicle of sacred music all concepts fall away, all that is left in that space is silence. It is in this silence that we can truly hear the song of our own heart singing in unison with all of creation."
This concert is part of (and produced by) the Inner Peace Conference. Only a limited number of tickets for this concert are available through HeartFire. For more information visit their website, here.
Music
Sacred Earth have released several albums over the years. On Spotify you can listen to (most of) their work. If you wish to buy their music, please consider buying through their page on Bandcamp. In this way you support the artist directly.

Practical Information

Sacred Earth :: In Concert
This concert is part of (and produced by) the Inner Peace Conference. A limited number of tickets is sold through HeartFire if you only come to the concert.
Date
5 October 2019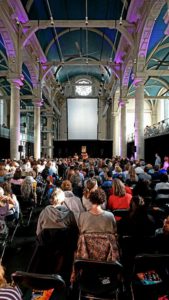 Venue
Zuiderkerk, Zuiderkerkhof 72, 1011 WB Amsterdam
Time
20:00 – 22:00 (doors open 19:15)
Transport
De Zuiderkerk is located in the center of Amsterdam, where nearby parking is not easy and not advised. We advise you to come by public transport or use your bicycle. Use Park & Ride facilities if you come by car to Amsterdam. Check the routedescription and use of public transport here to plan your journey.
Tickets
GroudFloor Ticket: EUR 30,-
Balcony Ticket: EUR 25,-
Ticketsales here (direct link: here)
Facebook
Updates also in the Facebook event page, here.
HeartFire Newsletter
Want to stay informed about our HeartFire events? Subscribe to our newsletter or like our HeartFire page on Facebook.