Rainer Scheurenbrand in Concert De mi Selva Tour 2021 Dominicuskerk Amsterdam 31 July 2021 (Sold Out)
What a delight to welcome the soulful virtuoso guitarist and singer/songwriter Rainer Scheurenbrand for a ceremonial album release concert De Mi Selva in the Dominicuskerk. One of the most beautiful churches of Amsterdam.
Rainer will be joined by the phenomenal percussionist Eric Owusu aka King Owusu for an evening of devotional and passionate music – music that builds a bridge to the invisible world of spirit. Rainer's medicine songs and the drumming spirit of Eric create a magical atmosphere with mesmerizing rhythms, virtuos guitar playing, melodies of pure beauty that will penetrate into the depth of your being. A mystical musical journey that that will connect you to the healing sounds of nature and open your heart to love.
"You are here to discover the mystery of your being" – Rainer Scheurenbrand
No testing for entrance is needed for this concert as we keep the 1.5 meter distance. There is limited placas available! Ticketsales has started, here, or on our ticketpage here.
About Rainer Scheurenbrand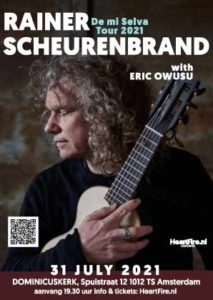 In 2006 Rainer Scheurenbrand published his first solo album Jardim, that was recorded in Rio de Janeiro.
Before that he was well known as a classical guitar player. Studied chamber music and classical guitar at the University for Music in Hannover, published 2 CDs with the Greek singer Theodora Baka, he won various prizes in the classical world followed by concerts in Europe, Russia, Israel and the United States.
This was the beginning of finding his own voice, the expressions of his soul. Investigating about thy mystery of life he was drawn to look behind the curtain and started to travel, moved to Brazil for two years and began his second life journey from there.
His music touches many hearts and souls, she already became part of many lives and gave strength and support for many listeners around the planet.
Brilliant harmonies, virtuos guitar playing, melodies of pure beauty inspire the heart with artistic elegance. His songs talk about spirituality, nature and love.
Without any promotion, a record company or big social media trombones his albums Jardim, Viento Bueno, Diosana, Its a Boonie and his latest creation De mi Selva are well listened worldwide.
Rainer Scheurenbrand will also perform during the BASECAMP Festival on August 27-29 2021 in IJmuiden Aan Zee (NL).

More info on Rainer Scheurenbrand on Bandcamp, Facebook and Instagram.
About Eric Owusu
Rainer will be accompanied by Eric Owusu on percussion.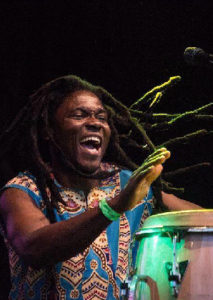 If ever there was a rhythmic entity manifesting through the beating sounds of the percussions and embodied as man, his name would be Eric 'Sunday' Owusu.
Growing up in Ghana West Africa he started drumming from a very young age. Soon he toured with traditional drumming & dance ensembles through Africa. Today the phenomenal percussionist, based in Germany, is touring worldwide and has played with some of the most sophisticated African and International musicians like Ebo Taylor, Richard Bona, Pat Thomas & Kwashibu Area Band, Kwame Yeboah, Africaine 808, Abasé, Feater among many other projects.
King Owusu is engaged in several band projects, likes to vibe around with DJs in his Afro Percussion Live Sessions, loves to record in studio sessions and also gives Afro Percussion Drumming Workshops. As soon as the drumming spirit enters the stage, he uplifts the energy, creates big smiles and fills up the hearts of the audience.
You definitely wouldn't want to miss a chance to see the energetic performance of this talented musician. More info on Eric Owusu on his Facebook and/or Instagram.
Music
Rainer Scheurenbrand has released several albums over the years. His latest release is De Mi Selva, which has been just released.
Practical information
Rainer Scheurenbrand & Eric Owusu :: De Mi Selva :: Album Release Concert
Date
31 July 2021
Venue Location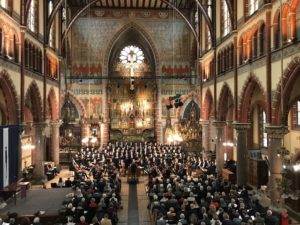 Dominicuskerk, Spuistraat 12, 1012 TS Amsterdam
For location on Google Maps, see here.
Time
19:30 (doors open 19:00)
Transport
Public transport: Check http://9292.nl/en to plan your journey.
By car: there is very little parking space, we advise you to use public transport or use your bicycle. See for more information about parking solutions in Amsterdam, here.
Parking Garage
There are two parking garages nearby:
Parking Centrum Oosterdok, 15m walk, Parking EUR 5,- (for one whole day) if you book early, online otherwise EUR 25,- (dayticket).
Q Park Nieuwendijk, 5m walk (very closeby but expensive), with all the roadworks active in the city centre not easy to get out of the city from this parking after the event ends.
Covid
This is an event where testing for entry is not required. This means we only can occupy 25% of the total capacity of the venue. So a maximum of 160 people can attend this event. We take all nessecary safety measures:
There are fixed seats. To sit on a cushion (that you bring yourself) is not possible at this event.
Please respect 1,5m distance between visitors if you are not from the same household.
If you experience complaints of any kind, we kindly ask you to stay safe and at home.
Tickets
Ticket sales for the concert has started, here.
Facebook
Updates also in the Facebook event page, here.
HeartFire Newsletter
Want to stay informed about our HeartFire events? Subscribe to our newsletter, like our HeartFire page on Facebook and/or on Instagram.
Basecamp Festival
Rainer Scheurenbrand will also perform during the BASECAMP Festival on August 27-29 2021 in IJmuiden Aan Zee (NL).