Praful Solo in Concert :: Medicine for the Heart 8 november 2019 @Van Houtenkerk Weesp
Op 8 november geeft Praful een bijzonder solo concert in de sfeervolle Van Houtenkerk in Weesp. Hij neemt je mee op een muzikale reis door het landschap van je ziel die je zal raken en je hart zal openen zodat de liefde vol en vrij kan gaan stromen. Van diepe verstilling tot uitbundige extase. Hij weet altijd weer magie te creëren!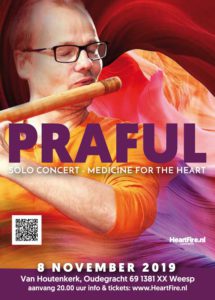 Praful is een meesterlijke multi-instrumentalist, soundhealer en een life-looping magiër. Als je je ogen sluit en je overgeeft aan de muziek heb je het gevoel dat er een complete band op het podium staat. En als publiek ben je altijd onderdeel van het concert door zijn improvisatie, het meezingen en in het moment wordt er een nieuw nummer gecomponeerd. Een ervaring die je niet snel zult vergeten!
Daarnaast geven Praful en zijn beloved Vimal op zaterdag 9 november een dagworkshop Healing Sound Healing Touch, ook in de Van Houtenkerk. Speciale combitickets voor het Solo Concert & het Healing Sound Healing Touch event zijn ook verkrijgbaar! Alle info over het event, hier.
About Praful
Praful is a sax & flute player, producer, charismatic performer and pioneer in the world music community. He embraces Jazz, Soul, Dance, Indian and new world fusion with grace and passion. As he weaves his spell with his sax, or invites soul searching with his flute, or ignites you to dance to abandon, he is in each and every note, inviting you to journey towards that which is of the highest calibre within you. Teacher and Bestselling author Eckhart Tolle has found his music tremendously beautiful and deeply touching.
Praful's 7 solo albums garnered great international success, US- Billboard Chart notations and the #1 US-radio hit SIGH. He is a regular guest on many festivals and gatherings throughout the world, giving concerts solo or with one of his various projects.
He is also world renowned for his work/performances with Dave Koz, Deva Premal & Miten, Swati Natekar, Carlos Nakai, Jai Uttal, Lilian Vieira (Zuco103), Peruquois, Jiga-Voo, Jonathan Butler, Maneesh de Moor, Marc Antoine, Adani & Wolf, Nippy Noya, Armando Peraza, Mola Sylla, Kareem Raihani, Gerardo Rosales, Monte LaRue, Sika Rose, Holiwater Project, Sudha, Carrie Tree, Project 2000, Hardsoul, DJ Maestro, Lucien Foort and many others.
"Beautiful music – A breath of fresh air blowing through the ether" Deva Premal & Miten"I have no words to describe what you do. It is simply transcendental watching you drop into the space between the notes and download all of us with a powerfully transformative experience."

Sean Gardner, USA (Raw Food Guru).
Looking forward to this Journey Into Being.
Music
Praful has released several albums over the years, solo and in collaboration with other artists. One of his most recent album is 'Earth Tones'. On Spotify you can listen to (most of) his work. If you wish to buy his music, please consider buying through his page on Bandcamp. In this way you support the artist directly. There are physical cds available for purchase before and after the event (no pin available).

Practical Information
Praful :: Solo in Concert :: Medicine For The Heart
looking for information about the Healing Sound Healing Touch event with Praful & Vimal on November 9? See here.
Date
November 8, 2019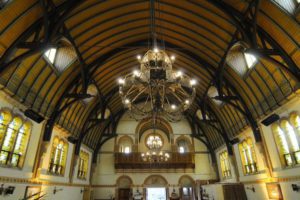 Venue
Van Houtenkerk, Oudegracht 69, 1381 XX Weesp
Time
20:00 – 22:00 (doors open 19:15)
Tickets
Ticket sales has started, here. There are also combi tickets available for the Healing Sound Healing Touch event with Praful & Vimal on November 9.
Tickets Solo Concert
Early Bird: 25,00 euro (before October 10)
Pre Sale: 30,00 euro
At the door: 35,00 euro
Combitickets Praful Solo Concert (8/11) & Healing Sound Healing Touch with Praful & Vimal (9/11)
Early Bird: 100 euro (before October 10)
Pre-Sale: 105 euro
There are also single tickets available for the Healing Sound Healing Touch event on November 9 2019.
Travel
The Van Houtenkerk is located in the centre of Weesp, in 15 minutes walking distance of the trainstation. The Weesp trainstation is a 15 minute trainride from Amsterdam Central Station. Although there is some parking space available, we advise you to travel with public transport. Check the routedescription and use of public transport, here.
Facebook
Updates also in the Facebook event page, here.
HeartFire Newsletter
Want to stay informed about our HeartFire events? Subscribe to our newsletter.