Pernilla Kannapinn Concert of Darkness & Light
September 13th 2019 at De Tempel in Amsterdam
We warmly invite you a magical evening with artist/storyteller/painter and violinist Pernilla Kannapinn. With music and touching stories her self-illustrated book The Princess and the Singing Wood she enchants on concerts of darkness and light and melodies that never let you go again. Accomponied by her weeping violin and a rare, almost forgotten art of whistling.
"Once upon a time there was an island with the strange name Inski Pinski. It was so far up north that the only direction you could possibly travel was southwards.
These are the words that my dream starts with. It is the beginning of a yet untold story, the dawn of a waiting adventure. The first step of a very long journey.
These are the words that my book starts with. In the past months it has thrived to become a true piece of art with a willful character of it's own. I have given it all my love and care to make it grow and flourish… and now, as my vision is slowly coming to life, I am in awe of the world that I have created.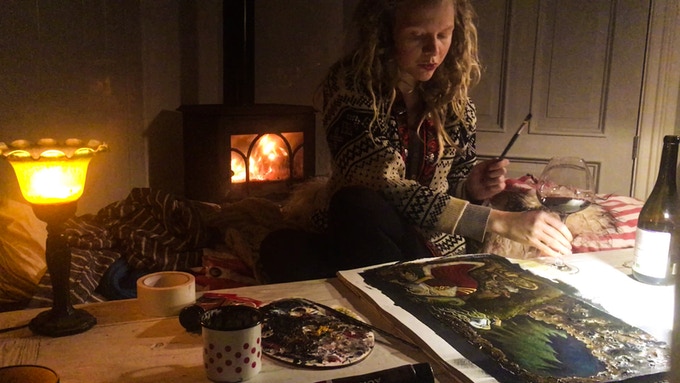 It is the story of the Princess of Inksi Pinski who is suffering from the most beautiful illness, "Fernweh" which could be translated as horizon pain. Together with her little golden wolf she sets sails to discover what lays behind the ivory shores of her little island.
It is a fairy tale. A story about following your heart and finding your path in life. It is about growing up in a world where the pure innocence of a child is the greatest treasure. It is an ode to the wonders of nature and the beauty of surrendering to the darkest of nights and the wildest adventure.
To write and illustrate the story of Inski Pinski, I have traveled to the far north, spending the coldest months of the year in the land of trolls and whispering dark forests."
Pernilla Kannapinn
– Musician and Artist –
Pernilla Kannapinn
Pernilla is a musician and a vagabond. She is a composer, a singer and a violinist. An artist at home between countries and cultures, a dreamer who sails in her painted violin case between the roaring waves of reality and imagination.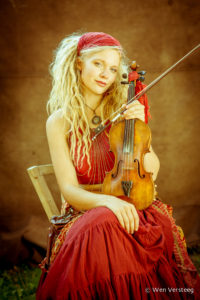 She takes the listener on a journey to a small island in the north with the strange name Inski Pinski. There lives a princess who is plagued by the most beautiful sickness in the world, horizon pain. So one day, accompanied by her little golden wolf, she sets sails to discover what lays behind the ivory shores of her little island …
The words crumble from Pernilla's battered leather suitcase, and ancient and newborn melodies drip velvety from the rough strings of her 350-year-old violin.
This idiosyncratic artist is the best proof that fairy tales really do exist. So she travels the world with her little snail house on four wheels and a road that unfolds in all direction, always accompanied by her little dog "My". The blond wild head full of dreams, always thirsty for the horizon and nothing in her luggage than her faithful violin, mysterious stories and melodies … and the stars.
Her brand new album is online for sale now! It's so new that it's still warm! Go to our Webshop or to Amazon to order it, and it will fly right into your home!
Pratical Information
Pernilla Kannapinn: Concert of Darkness & Light ::
Date
September 13th, 2019
Venue
De Tempel, Donker Curtiusstraat 15, 1051 JM Amsterdam
Time
19:30– 21:30 (doors open 19:00 / 2 times 40 minutes with a break)
Transport
De Tempel is located west to the center of Amsterdam, where nearby parking is not advised. We advice you to come by public transport or use your bicycle. Use Park & Ride facilities if you come by car to Amsterdam. Check the use of public transport here to plan your journey.
Tickets
25 euro
Facebook
Updates also in the Facebook event page, here.
HeartFire Newsletter
Want to stay informed about our HeartFire events? Subscribe to our newsletter or like our HeartFire page on Facebook.