Peia Songs of the Ancients Vocal Workshop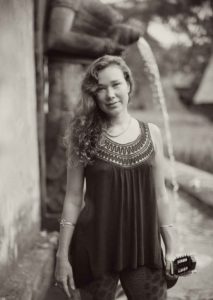 HeartFire warmly welcomes you to the magical and powerful 3-hours Sacred Chant workshop with Ancestral Songkeeper Peia Luzzi. Each one of us is gifted with a uniquely beautiful voice. Open to the transcendental sound within you, guided by the wisdom and expertise of Archival Songstress Peia Luzzi. More  info on Facebook here or buy your tickets here.
Through an embodied practice, rooted in the breath you will learn: healthy body alignment for optimal sound production, how to ground and harness the of power of the breath from your deep core, how to tap into the natural resonance of your voice.
Working with tools from the ancient Indian alchemy of Raga we will enter a meditative practice know as "The Yoga of Sound". We gain deeper understanding of the physical inner-workings of the voice from Vocal Pedagogy and learn to sing with grace, power, flexibility and ease.
This workshop is beneficial for singers on all stages of the journey, from very beginner to advanced. The first part of this workshop will focus on vocal embodiment and cultivation tools, and the second part we'll be learning a song from one of the many lineages that Peia is carrying.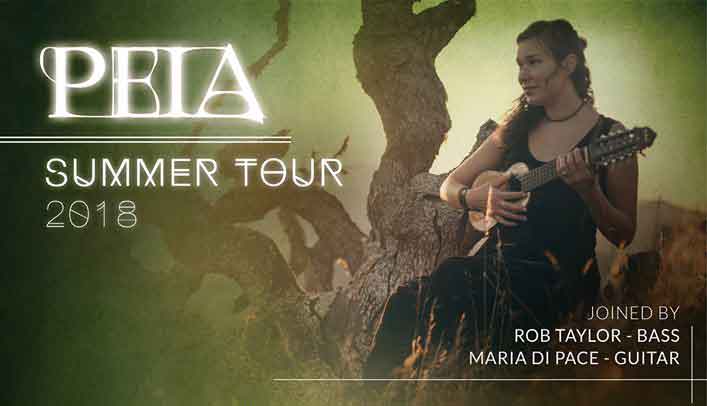 "My journey with world folksong traditions began many years ago while studying at New England Conservatory in Boston. Much to the dismay of my Opera professors, I found myself enthralled with the alluring beauty and mystery of traditional folk music. This fascination, along with a bit of old Irish wanderlust, poised me for a journey that led me to seek a lost culture and reconnect with the songs of my ancestors in ancient Europe."
Peia🌿
::::Like water be gentle and strong::::
Gentle enough to follow the natural paths of the earth and strong enough to rise up and reshape the world
About Peia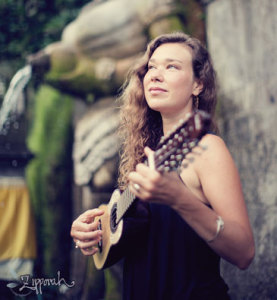 Peia Luzzi is an American born song collector, writer and multi-instrumentalist based in the mountains of Southern Oregon. Like water from a deep well, she draws inspiration from her ancestral roots of Celtic and Old World European folk music. With the voice of a lark, Peia dances nimbly from Child Ballads and 17th C. Gaelic laments, to Waulking Songs, and Bulgarian mountain calls. She has traveled extensively over the past 10 years to uncover melodies wrinkled and wise with time, laboring to honor their language and stories, while bringing a piece of herself to each song she carries.
A powerful voice in the rising global community of people who are committed to restoring a balanced relationship with the Earth, Peia expresses her holistic vision and passion through her music, educational workshops and advocacy for social and environmental rights groups. Peia's revolving collaborative ensemble weaves in rich vocal harmonies, driving percussion, and intricate guitar work, together with her own instrumentation on charangon and harmonium to create lush, organic soundscapes. Her mesmerizing performances offer authentic re-imaginings of traditional musical treasures, along with a stunning repertoire of her own original songs.
In 2012 Peia released her first solo album The Dance of Devotion – an intimate collection of poetic love songs and chants. Her second release Four Great Winds – a timeless journey through traditional and original sacred song was self released in May 2013 and picked up by Sounds True for global release in 2015. Following the initial release of 'Four Great Winds' Peia gained international notoriety and requests for performances in Europe, Australia, Bali, Brazil and Canada. Her music has taken her around the world and sparked collaborations with many world-class artists including: legendary poet and Rumi scholar Coleman Barks, author, mythologist & storyteller Michael Meade, Renaissance Lutist Ronn McFarlane, Iranian tar master Ali Ghamsari, Grammy Award Winner Peter Kater and Sephardic song carrier and oud player Shai Shriki. Her third album Beauty Thunders, was released in 2016. In 2017 she toured Europe.
Peia currently splits her time between touring and the, wild hills of Southern OR where she wildcrafts herbal remedies, sings with Wild Honey – an all women's world music trio, and teaches Song of the Ancients – voice cultivation and ancestral songline tracing. Fusing her knowledge of Vocal Pedagogy (The Science of the Voice) with the ancient meditative practice of Nada Yoga, she imparts upon her students the tools to harness the natural beauty and resonance of the voice.
more about Peia here, or listen to music on her Bandcamp page here.
Practical Information
Peia :: Songs Of The Ancients :: Sacred Vocal Workshop
Date
July 26, 2018
Venue Location
Jungle Amsterdam, Tweede van Swindenstraat 26,1093 VS Amsterdam
Time
19:00 – 22:00 (doors open 18:30)
Travel
Jungle Amsterdam is located in Amsterdam East. We advise you to travel with public transport of with your bike. Check public transport on http://9292.nl/en to plan your journey. By car: there is little parking space, we advise you to use public transport or use your bicycle whenever possible.
Tickets
Ticketsales has started, here.
Facebook
Updates also in the Facebook event page, here.
HeartFire Newsletter
Want to stay informed about our HeartFire events? Subscribe to our newsletter.
Music
Peia has released several albums, her latest is Beauty Thunders: