One Track Heart The Story of Krishna Das Filmscreening De Balie 3 juni 2017
One Track Heart – The Story of Krishna Das | Documentary
HeartFire and LivingSatsang will be hosting the screening of One Track Heart – The Story of Krishna Das at De Balie in Amsterdam. Before the screening of the documentary Prembuddha from Living Satsang will give a small introduction about One Track Heart before the documentary starts.
One Track Heart is an inspiring and heartwarming documentary about world renowned kirtan singer and spiritual teacher Krishna Das. A wonderful way to get to know Krishna Das and his source of inspiration.
Buy your tickets here and share the event on Facebook with your friends and loved ones! Ticketsales has started via the website of De Balie.
more info on the movie here, on Krishna Das here, or the live concert of Krishna Das in Amsterdam on July 1 & 2 here.
About One Track Heart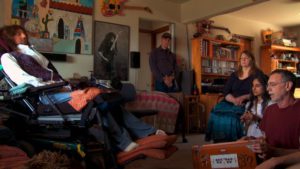 In 1970, Jeffrey Kagel walked away from the American dream of rock 'n' roll stardom, turning down the chance to record as lead singer for the band soon-to-be the Blue Oyster Cult. Instead, he sold all his possessions and moved from the suburbs of Long Island to the foothills of the Himalayas in search of happiness and a little-known saint named Neem Karoli Baba. ONE TRACK HEART: THE STORY OF KRISHNA DAS follows his journey to India and back, witnessing his struggles with depression and drug abuse, to his eventual emergence as Krishna Das, world-renowned spiritual teacher and Grammy nominated chant master.
Featuring interviews with Ram Dass (LSD Icon Richard Alpert), Rick Rubin (Grammy Award winning Producer), Sharon Salzberg (NY Times bestselling author), Daniel Goleman (two-time Pulitzer Prize nominee), as well as a musical score by J Mascis (Dinosaur Jr) & Devadas, this is the inspiring story of how one man's heart-expanding journey continues to transform countless lives.
more info on One Track Heart, here.
Practical Information
One Track Heart – The Story of Krishna Das | Filmscreening @De Balie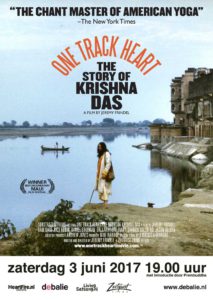 Date
June 3rd, 2017
Venue Location
De Balie, Kleine Gartmanplantsoen 10, 1017 RR Amsterdam
Time
19:00 – 20:30
Transport
We advise to use public transport (check http://9292.nl/en to plan your journey)
Tickets
There are several types of tickets available:
Normal € 10,00
Student € 8,50
Offscreen-pas € 8,50
CJP € 8,50
Stadspas € 8,50
Ik heb De Balie Cultuur Pas € 8,50
You can buy your ticket online on the site of De Balie, here.
Facebook
Updates also in the Facebook event page, here.
HeartFire Newsletter
Want to stay informed about our HeartFire events? Subscribe to our newsletter.