Mirabai Ceiba in Concert 6 May 2018 Zuiderkerk Amsterdam
De muziek van Mirabai Ceiba is hartverwarmend, toegankelijk en tegelijkertijd raakt het diep de ziel. De prachtige klanken van harp, piano, gitaar en viool versmelten wonderlijk met hun harmonieuze stemmen.
Hun liefdevolle en vreugdevolle concerten zijn telkens weer een uiting van vrede, en van hun persoonlijke diepe geloof, dat muziek een universele taal is die alle volkeren, culturen en tradities van de wereld verenigt.
Ook dit jaar komen zij met Bogdan Djukic, de viool virtuoos die gegarandeerd extra magie zal creëren.
"Their music comes from a pure space of love and devotion. It is soothing, peaceful and very meditative" Deva Premal
Buy your tickets here (starts 10 december @10), more info in the event on Facebook here. We are very much looking forward to welcome you at this heartwarming concert in the beautiful Zuiderkerk in the Heart of Amsterdam!
About Mirabai Ceiba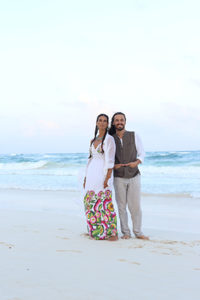 A gentle yet expansive spirit pervades all the music of Mirabai Ceiba. The delicate sounds of harp, piano, and guitar blend with lovingly intertwined voices amid lush celestial soundscapes. Their concerts are group celebrations for peace—joyous and loving occasions that embody the duo's profound belief in music as a universal language uniting all the world's peoples, cultures and traditions.
Mirabai Ceiba is a duo consisting of guitarist / singer Markus Sieber and singer / harpist / keyboardist Angelika Baumbach. They come from different parts of the world. Markus is East German. Angelika was born in Tucson, Arizona, and grew up in a small village near Mexico City, the daughter of a Mexican mother and German father.
Markus and Angelika first met at a street fair at Scotland's Edinburgh Fringe Festival and quickly fell in love. Markus was pursuing a successful acting career at the time, and Angelika was touring the world as a singer/songwriter. But the newly formed couple decided to share their love with the world through uplifting music steeped in spirituality, tenderness and beauty.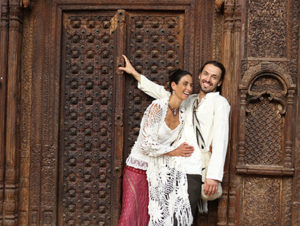 Together, Angelika and Markus have forged engaging new style of world devotional music blending Gurmukhi mantras from the Kundalini Yoga tradition with original songs in English and Spanish that reflect a Native American influence and also draw words of wisdom from Rumi, Thich Nhat Hanh, Guru Nanak and Yogi Bhajan. Through exquisitely crafted recordings like their CD A hundred Blessings, Mirabai Ceiba weave a beguiling tapestry from these diverse influence and sources. And that's what the music feels like: a beneficent and abundant gift from the universe. In concert, they inspire all present to chant together in a spirit of compassionate love and Oneness.
Even the name Mirabai Ceiba embodies the influences of both India and Native Latin America. Mirabai (1498-1547) was a Hindu mystical singer. Her songs express the longing of the individual self to be one with the universal self, represented by Krishna. For Angelika and Markus, the name Mirabai is the exploration, the devotion, the inspiration in all the different aspects of divinity.
And the Ceiba is a sacred tree of Latin America which is never cut and grows very tall. We wish our music could be like the Ceiba tree, say Markus and Angelika, with roots deep in Mother Earth and branches extending far and wide into Father Sky.
Written by Alan di Perna
Interview
On May 5th, Claire Banzinger from TVNR Radio did an interview with Mirabai Ceiba, which was also broadcasted on Facebook Live.
Music
Mirabai Ceiba are currently working on new material soon to be released. They have released several albums as Sevati (2015), Live in Concert (2014), Sacred Love Meditations (2013), Between the Shores of Our Souls (2012), The Grace Within You (2012), Awakened Earth (2011), A Hundred Blessings (2010) and Ocean (2008).


Practical Information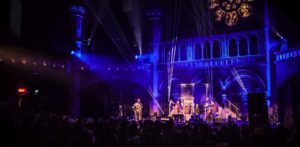 Mirabai Ceiba :: In Concert
(with Bogdan Djukic)
Date
6 May 2018
Venue Location
Zuiderkerk, Zuiderkerkhof 72, 1011 WB Amsterdam
Time
19:30 – 22:00 (doors open 18:45)
Transport
Public transport: Check http://9292.nl/en to plan your journey.
By car: there is very little parking space, we advise you to use public transport or use your bicycle. See for more information about parking solutions in Amsterdam, here.
Tickets
Ticket sales will start on 10 December 2017, 10am, here.
Festive Bird tickets: 35 euro (ground floor), 25 euro (balcony) – available until 31 December
Regular tickets: 40 euro (ground floor), 30 euro (balcony)
At the door: 45 euro (if available)
Facebook
Updates also in the Facebook event page, here.
HeartFire Newsletter
Want to stay informed about our HeartFire events? Subscribe to our newsletter or like our HeartFire page on Facebook.