Krishna Das Workshop :: 20 juli 2022 @Zuiderkerk Amsterdam
We are thrilled to announce that Krishna Das will give a workshop on July 20th (as part of his Europe Tour 2022) in Zuiderkerk in the Heart of Amsterdam. Share the Facebook event with your friends and loved ones! Ticketsales for the Amsterdam Workshop starts May 6th 10.00am, here.
"Chanting breaks down the difference between the inside and the outside. It's about having a heart that never shuts down, that nothing can shut down." – Krisha Das
Kirshna Das will also give two kirtan concerts on July 21 & July 22 in De Zuiderkerk. You can find more info about these concerts on our website here and here. More info in our ticketshop with our ticketing partner Eventbrite, here.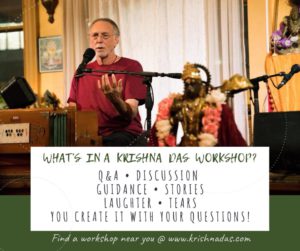 Krishna Das's workshops are like mini-retreats of about 3 hours. Along with chanting, Krishna Das shares stories about his experiences on the Path. Workshops with Krishna Das usually include: Chanting (call and response) with musical accompaniment, stories about his Guru, readings from spiritual traditions, teachings, and discussions about life and the spiritual Path. This forum provides the opportunity for Q&A in an intimate setting.
About Krishna Das
Krishna Das has been recording albums of traditional Indian chants and song since 1996 but has been on a spiritual journey his entire life. Born and raised on Long Island, New York, Krishna Das has been at the forefront of utilizing western melodic sensibilities in Hindu kirtan (chanting) and satsang while maintaining its traditional base and structure and is a master of infusing the Indian tradition with modern influences. While staying true to the path of Bhakti or Devotional Yoga, his music is energized with modern grooves and melodies to create soulful chanting that is eminently accessible to western hearts.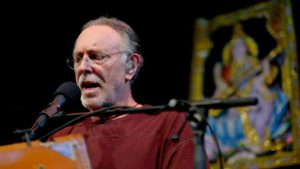 Soundclips from KD workshops can be heard here. Video about KD's workshops can be seen here. Get a glimpse of topics that are discussed by excerpts from his book Chants of a Lifetime, here. For more information about Krishna Das visit krishnadas.com.
We are looking forward to welcome you all at the workshop!
Practical Information

Krishna Das :: Workshop Europe Tour 2022 @Zuiderkerk Amsterdam
(looking for the concerts at Zuiderkerk Amsterdam on July 21 & 22? See here or here).
Date
July 20th, 2022
Venue Location
Zuiderkerk, Zuiderkerkhof 72 1011 WB Amsterdam
Time
19:00 – 22:00 (doors open 18.15)
Transport
Zuiderkerk is located in the center of Amsterdam, where nearby parking is not easy and not advised. We advice you to come by public transport or use your bicycle. Use Park & Ride facilities if you come by car to Amsterdam. Check the use of public transport here to plan your journey.
Parking Garage
There are parking garages nearby:
What to bring
A cushion/sheepskin to sit on, if you want to sit in front of the stage. We have space in front of the stage to sit on a cushion/sheepskin. Please bring your own cushion. No yogamats please, as there will be too little room for that. We advice you to be there in time if you want to sit on the ground as there will be place for 80 people to sit in front. Of course we will also have chairs.
Tickets
Ticketsales starts May 6th 10.00am, here.
See tickets for the Kirtan Concerts here.
Facebook
Updates also in the Facebook event page, here. Click on 'attend' in the event and don't forget to invite your friends to the event who'll think will be interested. It helps a lot, thank you!
HeartFire Newsletter & Social Media
Want to stay informed about our HeartFire events? Subscribe to our newsletter, like our HeartFire page on Facebook and/or on Instagram.