Kevin James Carroll Voice Harmonisation & Chakra Tuning Workshop @Yoga Today (Laurentiuskerk) 10 June 2021
It was on our HeartFire wishlist for quite some time so we very happy to announce that Kevin will guide a Voice Harmonisation and Chakra Tuning Workshop on June 10th at Yoga Today in a beautiful church in Weesp, close to Amsterdam. Tickets available here.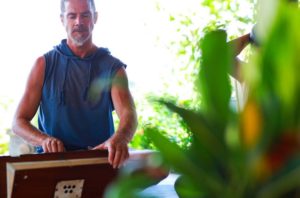 A wonderful way to open your voice and your heart. Improve and open your voice, reconnect to your true self, clear emotional blockages and give your energy centers a cleans and tune up with the power of sacred sounds and mantras.
The introductory event involves a deep journey into the AUM as a meditation for cleansing the mind, also toning sacred sounds as a way to find emotional harmony and stability.
Kevin will share his profound insight into the nature of sound and the connections it has to every part of our lives. You will be supported to open up to an effortless way of singing and connect to your natural voice with emotion and feeling (The essence of Bhakti). Kevin will explain how this has a direct connection to your true authentic self and how you relate to life. You will come away from this with a daily practice that you can do by yourself at home.
Open level
An interactive event for all levels, perfect for anyone interested in healing through sound. We will sit together on the floor so please bring a cushion. There will be chairs available for people who are uncomfortable sitting on the floor.
☆ A powerful way to reconnect to the heart ☆
HeartSongs Chanting Circle on June 11
On June 11th Kevin James Carroll will give a HeartSongs Chanting Circle together with his beloved Susana Rodriquez at the majestic Dominicuskerk in Amsterdam. More info here.
About Kevin James Carroll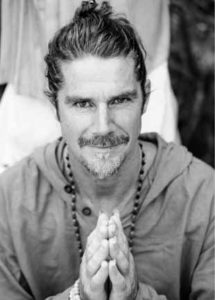 Kevin James is an experienced chant leader from Australia and travels the world in the spirit of Oneness and freedom. The Songs and mantras of Kevin James Carroll are an invitation to co-create a deep connection to the heart and a positive healing vibration for ones self and the world. Weaving ancient Mantra's with his own Heart Songs. They are a gift to the many hearts remembering the ONE. An expression of the movement of realization that is spreading across the planet right now.
Kevin's music is a world fusion of devotional chanting, drawing upon influences from traditional Indian Kirtan, Rainbow Bhajans, Celtic and Sufi chants mixed with western folk sounds and world instruments.
This is a movement that honors the ancient cultures and religions of the world, embracing their commonality… their Oneness. Each Heartsong is a modern devotional Hymn, a song of clear intent and purpose: to expand awareness beyond the thinking mind, to enter the bliss of the heart.
"Kevin James' voice is touching, warm and loving at each moment – authentic and straight from the heart. He sings for you, he sings to your soul, and you will feel an immediate warm embrace which lets you feel cozy, protected and within a realm where sorrows have no weight anymore." – Sat Nam Europe
The intention of his circles is to empower individuals through reconnecting to their heart and to bring awareness of our oneness. His songs have a fathomless depth with universal truths and a heartfelt devotion. The intention and philosophy expressed in his songs reflect what he calls, The evolution of an emerging culture of awareness of oneness. There is a renaissance of people who are more interested in celebrating what we all have in common rather than focus on our differences.
Chanting Heartsongs, Mantra & Kirtan are a powerful way to reconnect to the heart. When we are in connection with our heart, everything changes. Our heart has its own intelligence and is a doorway to our own inner light, the light of our awareness, unobstructed by thoughts of separation and an imaginary self or ego. Connected to our heart we find we are the person that our ego, can spend a lifetime attempting to imitate yet will always fail. We are effortlessly and naturally all the things we call good. Without trying or needing to follow rules or religious beliefs.
We have no desire or need to control our self or others. Fully connected, we are naturally kind, respectful, present, self fulfilled, accepting, grateful and unconditionally loving human beings and yes, in the unconscious dream of the ego, we are naturally dysfunctional and destructive to ourselves, others and the environment and are justified to feel we need to be in control and controlled.
Somehow, through the process of our evolution, most of humanity has became disconnected from our true self or sense of being which has caused us to create a false or imaginary self that we hold in our memory and subconsciously recreate it like an addiction. This egoic collective unconsciousness has become normal, so for most people, this is difficult to believe. I understand this.
You surely have to experience it for yourself and this is what we do with the chanting circle, create a space for that to happen. It's like a remembering. In a world where forgetting who we are has become normal, its destructive patterns have left us in an apparent life or death situation. We can remember together and support one another. And for me and many others, chanting Mantra and Heart songs is the perfect way to do it.
Practical information
Voice Harmonisation & Chakra Tuning with Kevin James Carroll
Date
10 June 2021
Venue Location
Yoga Today (Laurentiuskerk), Blomstraat 36, 1382 AJ Weesp (ingang aan de zijkant)

Time
start time 19:30 (doors open 19:00)
Transport
Public transport: Check http://9292.nl/en to plan your journey.
By car: there is (little) parking space, we advise you to use public transport or use your bicycle. See for more information about parking solutions in Weesp, here or here.
Tickets
Ticket sales has started, here.
Facebook
Updates also in the Facebook event page, here.
HeartFire Newsletter
Want to stay informed about our HeartFire events? Subscribe to our newsletter, like our HeartFire page on Facebook and/or on Instagram.