Jennifer Ann Ceremonial Concert & Cacao We Are The Ancestors :: 4 September @Stadsparadijs Haarlem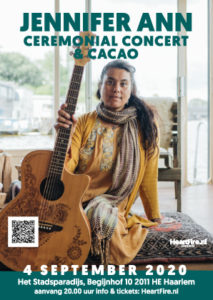 Special UPDATE due to Corona virus (March 16)!
Due to the Corona virus the concert of Jennifer Ann will take place on September 4th 2020 (also at Het Stadsparadijs) for which your current ticket(s) will remain valid and in effect. We feel that this decision is made to help slow down and stop the spread of this invasive virus and your health and safety are incredibly important to us. We appreciate you all and give special thanks to those who keep putting their faith in us by keeping their current tickets intact. If you can't attend the concert on this new date then you can apply for a refund by sending an email to jeroen@heartfire.nl before March 27th. Refunded tickets will go on sale immediately afterwards.
We are planning to host a small Livestream with Jennifer Ann on the original date of the concert, March 27th starting at 20:00 pm CET that will help us to connect with our heart and the field of love and trust. Please visit her facebook page to come together in the HeartSpace and let the mantra's bring some inner peace now the world is in chaos. More info on this Livestream will follow on our Facebook Page, here.
Ceremonial Concert & Cacao
HeartFire Presents: Jennifer Ann Ceremonial Concert & Cacao We Are The Ancestors. Ticketsales will start at Imbolc, February 1st 2020 at 10:00, click here for tickets.

We are very pleased to welcome Jennifer Ann at the beautiful space Het Stadsparadijs in Haarlem!
Jennifer Ann is an amazing Singer/Songwriter from Holland/USA with her roots in mantra and medicine music. She travels around the world to lead ceremonies in her unique way. Her voice is soulful and warm and her fans describe it as a mothers embrace.
On September 4th 2020 she will open the concert with an intimate cacao ceremony that will bring you into the sacred space of the heart. It is a beautiful way to start this magical evening. Jennifer will take you on a heart-opening musical journey that will touch your soul deeply. A feeling of coming home to yourself and to the tribe of many colours.
Experience ~ Enjoy ~ Sing ~ Dance
Sit ~ Move~ Feel ~ Embody
Celebrate Life & Love!
About the Cacao
Ceremonial cacao was traditionally used by the Ancient Mayan Shamans in a ceremony to travel between the worlds, to travel beyond the veil. To do this, the shamans infused their cacao with spirit, giving the ceremonial cacao a spiritual dimension not found in other cacao sources. Ceremonial cacao is, therefore, an ancient plant medicine, a wisdom keeper, a teacher, and a facilitator. Ceremonial cacao leads you to the door to the heart, to the spiritual dimension, but it does not push you through like other plant medicines – such as those found in the Amazon forest. Ceremonial cacao invites you on a journey, to travel with the chocolate spirit through the veil in a safe an gentle way
About Jennifer Ann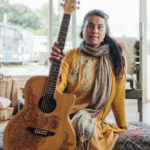 Jennifer Ann is a Meditative Singer Song Writer from Holland/USA with her roots in mantra and medicine music. Her voice is soulful and warm and her fans describe it as a mothers embrace.
With her search for the medicine and healing powers within music. She follows the traditions of mantra chanting and tribal ceremonial music. This is the groundwork for her original songs that she is now birthing into the world. These new songs are a fusion of tribal music and folk/singer-songwriter blended together as prayers for a better world. She works with her band: "Tribe of Many Colors" who join her when possible.
In 2014 Jennifer Ann released her first album, which was received well in Holland and reviewed by the Dutch Yoga Magazine. Her second album in 2015 was already shifting towards writing original songs. In that same year, she was invited to speak about how "Music = Medicine" at Tedx Friesland (The Netherlands) that year she also finished her music degree from the University of Groningen (The Netherlands).
In 2018 she has released her latest album Urban Shamanism. Two songs of this album have won a "Peace Song Award" in the USA. In the jury of the Peace Song Awards, are o.a Steward Copeland of "The Police" and Peter Yarrow of " Peter, Paul & Mary". More info: www.globalpeacesongawards.org.
She is currently travelling worldwide sharing her musical gift, together with ceremony, retreat and other healing work. In the past three summers of 2017-2019, she has toured throughout Europe, sharing at festivals, retreats, ceremonies and workshops. Her mission is to help people return to the core centre of their being, with calmness, strength and connection to life. She uses her music to connect communities, teach sacred ways and sustain a healthy lifestyle. She believes we are made to thrive! And we do this best together as the tribe of many colours!
more info on Jennifer Ann
See her website jenniferannsings.com
instagram: @JenniferAnnSings
facebook: JenniferAnnSings
Music of Jennifer Ann
Practical information
Jennifer Ann :: Ceremonial Concert & Cacao – We Are The Ancestors :: 4 September 2020 @Stadsparadijs Haarlem
Date
September 4th, 2020
Venue
Het Stadsparadijs, Begijnhof 10 2011 HE Haarlem
Time
20:00 – 22:00 (doors open 19:00)
Travel
Het Stadsparadijs is located in the center of Haarlem, where nearby car-parking on the street is very limited. There are a few car parkings near the venue (De Appelaar, De Kamp, Stationsplein or De Raaks). Parking De Appelaar fills up fast (especially on thursday – friday – saturday). We advise you to travel by public transport or use your bicycle (when possible). Use possibilities to park your car in Haarlem, here. Check the routedescription to the venue and use of public transport here to plan your journey.
See the route description to Stadsparadijs on their website, here.
Tickets

Ticket sales starts on February 1st (at 10:10) on our Eventbrite page of directly here.
Tickets: 25,00 euro
(ticketprices includes 2,50 euro service & bankcosts)

Facebook
Updates also in the Facebook event page, here.
HeartFire Newsletter
Want to stay informed about our HeartFire events? Subscribe to our newsletter, like our HeartFire page on Facebook and/or on Instagram.