HeartSongs Chanting Circle with Kevin James Carroll 12 May 2019 Vondelkerk Amsterdam
Welcome to an inspiring chanting evening with Kevin James Carroll in the most beautiful church of Amsterdam, the Vondelkerk! Kevin's Chanting Circles are a co-creative and empowering experience that can have you singing your heart out, dancing in bliss and diving deep into the profound silence that follows.
☆ A powerful way to reconnect to the heart ☆
Ticketsales starts 1st November 2018. Buy your tickets here. We are looking forward to dive into bliss together!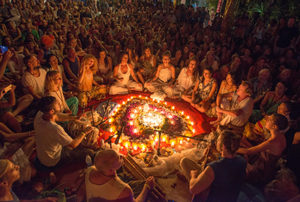 About Kevin James Carroll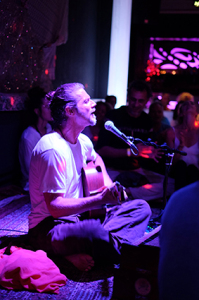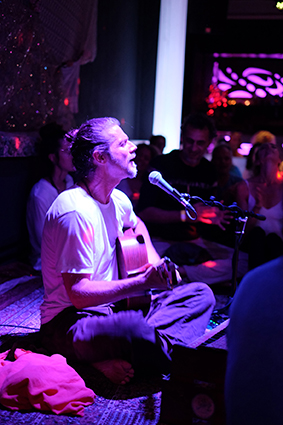 Kevin James Caroll is an experienced chant leader from Australia and travels the world in the spirit of Oneness and freedom. The Songs and mantras of Kevin James Carroll are an invitation to co-create a deep connection to the heart and a positive healing vibration for ones self and the world. Weaving ancient Mantra's with his own Heart Songs. They are a gift to the many hearts remembering the ONE. An expression of the movement of realization that is spreading across the planet right now.
Kevin's music is a world fusion of devotional chanting, drawing upon influences from traditional Indian Kirtan, Rainbow Bhajans, Celtic and Sufi chants mixed with western folk sounds and world instruments.
This is a movement that honours the ancient cultures and religions of the world, embracing their commonality… their Oneness.
Each Heartsong is a modern devotional Hymn, a song of clear intent and purpose: to expand awareness beyond the thinking mind, to enter the bliss of the heart.
Kevin James' voice is touching, warm and loving at each moment – authentic and straight from the heart. He sings for you, he sings to your soul, and you will feel an immediate warm embrace which lets you feel cozy, protected and within a realm where sorrows have no weight anymore. – Sat Nam Europe
We will sit together on the floor so please bring a cushion. There will be chairs available for people who are uncomfortable sitting on the floor.
Practical information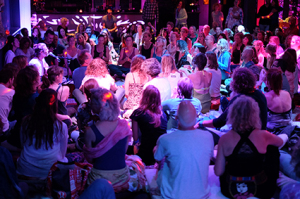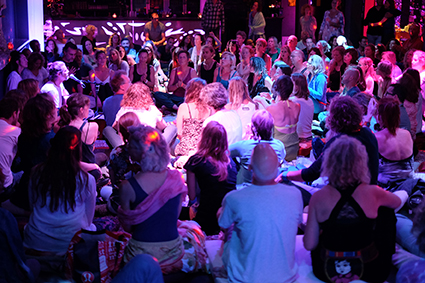 HeartSongs Chanting Circle with Kevin James Carroll.
Date
12 May 2019
Venue Location
Vondelkerk, Vondelstraat 120, 1054 GS Amsterdam
Time
start time 20:00 (doors open 19:15)
Important Notice
During the Heartsongs Chanting Circle we will be sitting, on the floor, around a beautiful flowermandala. Kevin, Susana (harmonium) and Dion (percussion) will also be sitting on the floor (not on a stage). In this way the energy can flow freely around. There is no stage, we are the stage. So be sure to take a meditationcushion (or something else) with you, to sit on. There is no space to lay down on a yogamat. There will be chairs in the outer circle for people who prefer to sit on a chair.
We kindly ask everyone to take off their shoes and place these at the wardrobe, just like you would when visiting a sacred temple. At the chanting circle we visit the holy temple of our heart.
Transport
Public transport: Check http://9292.nl/en to plan your journey.
By car: there is very little parking space, we advise you to use public transport or use your bicycle. See for more information about parking solutions in Amsterdam, here.
Tickets
Ticket sales will start on 1 november 2018 here.
☆ Early Love Bird: 25,00 euro (until 14 February)
☆ Normal: 30,00 euro (from 15 February)
☆ At Door: 32,50 euro (if available)
Facebook
Updates also in the Facebook event page, here.
HeartFire Newsletter
Want to stay informed about our HeartFire events? Subscribe to our newsletter or like our HeartFire page on Facebook.