HeartFire Sessions #2 with Praful
The HeartFire Sessions #2 with multi-instrumental whizzard and master soundhealer / producer Praful.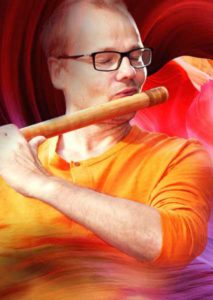 HeartFire.nl and Third Eye Media proudly present the second edition of the HeartFire Sessions, with multi-instrumental whizzard, master sound healer and producer Praful. You can get your tickets here, through our ticketing partner Eventbrite.
During these turbulent times in which physical gatherings are not possible, Dutch Concert organiser Heartfire has been working together with content creator Third Eye Media to light up our heart fire with a trilogy of online music ceremonies.
Using the unifying power of music, ceremony and heart to heart conversation, we are creating a sacred hearth to gather up and reconnect to each other, regardless of spiritual or social backgrounds.
We kicked off the first edition of the HeartFire Sessions with the singer-songwriter and ceremony master Jennifer Ann. And now, our second session we have invited the masterful multi-instrumentalist, sound healer and life looping magician Praful. Pure sound medicine for the heart!
During this Session we will share an intimate online space with live music, conversation and the premiere of a video portrait made of Praful by Third Eye Media.
About HeartFire Sessions
HeartFire organizes inspiring events that share love through music . We bring people together in a sacred heart space where healing, transformation and celebration of life happen.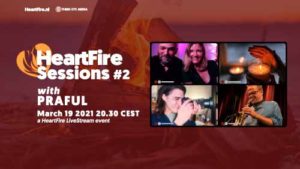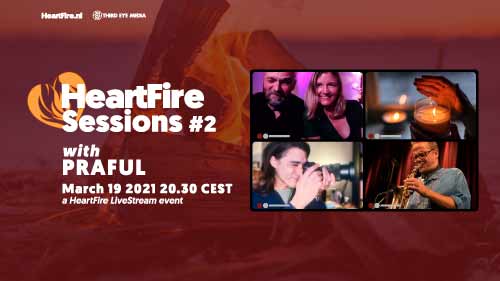 We love to contribute to a better future. That's why together with filmmaker Pablo Palma (Third Eye Media) we have created a series of video portraits of heartfelt artists. With their music and creativity they offer a powerful contribution in these transformative times.
We will co-create an intimate online setting through positive intentions and ceremony where these videos will be premiered and musicians will share some of their favourite songs with the community. There will be room for some questions and conversation. Make sure you reserve your seat.
Let's unite around this virtual hearth and celebrate love through music!
The event is donation based. The donations will be shared with the artist and will allow us to create more of these events, invite new musicians and grow together as a transnational conscious community.
In preparation for the event
We advise a few thing to prepare you for the event, so you can enjoy it best:
Make sure you block 1,5 hours in a quiet place.
The event will take place via Zoom, you will receive a link directly with your ticket
During the Zoom event please keep your microphone in mute, unless you are invited to speak.
Headphones (or external speaker) work best to ensure a good audio quality (speakers on your computer/laptop do not generate enough volume)
We appreciate it if you leave your computer camera on, so we can feel each other's presence.
Finally (but not least important): Bring a candle to light on!
Let's gather around this virtual hearth and celebrate love through music!
With love,
Daniëlle & Jeroen | HeartFire
Pablo | Third Eye Media
Praful | Praful Mystik
Tickets