HeartFire CampOut 2022 with Kevin James & Susana, Carrie Tree & Kusñi Bear, Leonie Bos, Ecstatic Dance & more magic on September 16-18 @Landgoed Ottermeer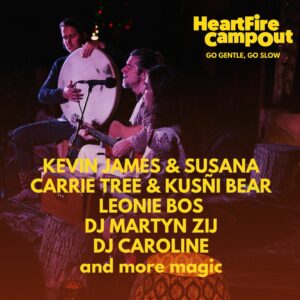 Dear Heart Travelers,
After two beautiful and intimate editions of our first HeartFire CampOut in 2021, we love to gather again around the HeartFire and celebrate the end of the summer and the beginning of the Autumn season with you all. We are so happy that we can announce the new dates for the CampOut 2022 on 16 – 18 September 2022. Tickets are available, here.
Join the magic for this camping gathering with Kevin James & Susana, Carrie Tree & Kusñi Bear, Leonie Bos, Ecstatic Dance DJ's Caroline and Martyn Zij & more magic on the beautiful natural camping ground Landgoed Ottermeer. Read our latest newsletter, here.
Landgoed Ottermeer is a sacred place that is created with much love and in harmony with nature. A little paradise that is welcoming us with open hearts and arms. We have set a strong intention to create much beauty together!
HeartFire CampOut!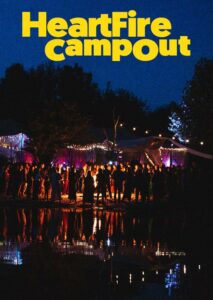 HeartFire CampOut is a spontaneous camping experience, born in 2021, where you go campout with friends and family in nature. For every edition we invite artists and dj's that have touched our hearts with their music, sacred sounds and vibrant energy. Music, dance and ceremony as Medicine!
We will open and close the CampOut with a ceremony with all Heart Travelers. There will be no day tickets available.
Sacred World Music | Ceremony | Ecstatic Dance | Singing | Nature | Stillness | Connection | Playfulness | Celebrating Life
As HeartFire we believe that in this time of transition it is important to come together in a tribe to connect with each other and to reconnect with our hearts and to lift our spirits high. Together giving shape to the new earth where love, trust and beauty resides. Let's gather around the Hearthfire and celebrate this wonderful life.
CampOut Program
We want to create a space where we you are invited to slow down and tune into the nature of your being. The theme of this special camping weekend is Go Gentle, Go Slow. Especially in this time when time seems to be speeding up and so much is moving, it is important to slow down, be in the moment and immerse yourself in the HeartSpace. We choose to make 1 trip together during this intimate weekend. There are no different programs at the same time. So no choice stress, a gift to yourself. We feel it is important to also have time to rest, play, connect and see what wants to unfold in the moment itself. The magic of this now moment.
The program is unfolding step by step. We are also tuning into a small program for the kids together with Elske Falkena. Kids program will be a special opening & closing ceremony for the kids, they will create powersticks, yoga, movement and appear in our open stage program.
Stay tuned for new updates on this page. Below you find a taster for the program. We have some tweaks to do, but it's getting there.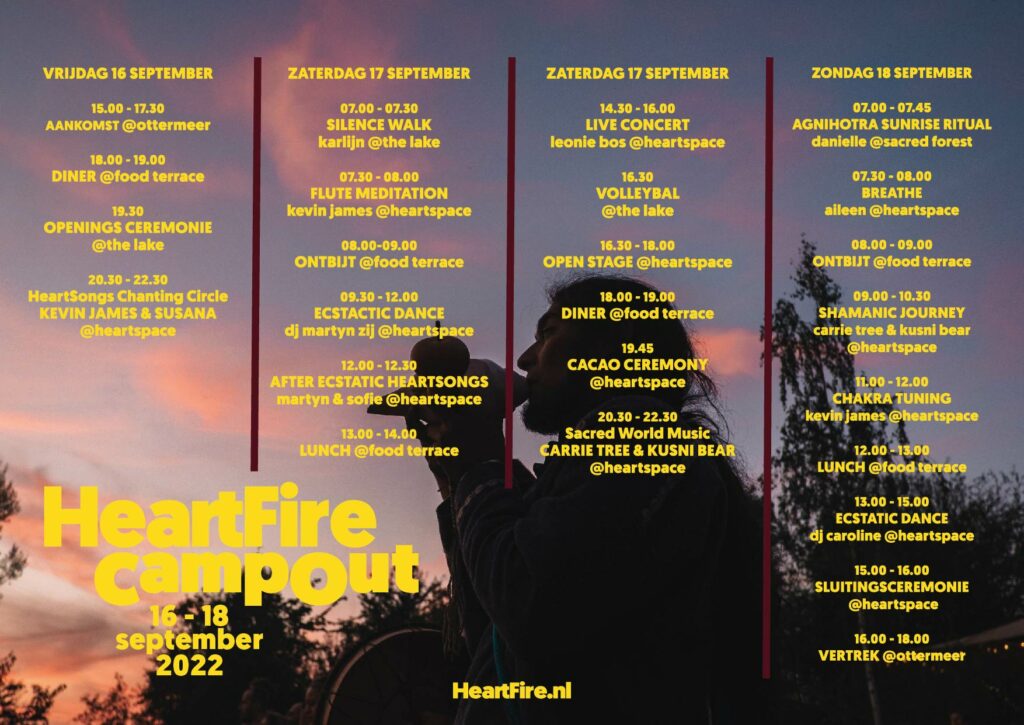 Kevin James & Susana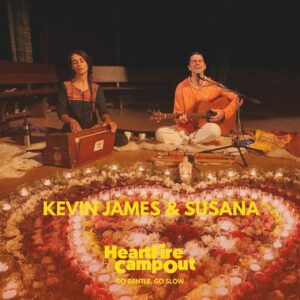 What a joy that Kevin James & Susana will be again part of the HeartFire CampOut with their HeartSong Chanting Circle. A co-creative and empowering experience that can have you singing your heart out, dancing in bliss and diving deep into the profound silence that follows. Kevin will also share a flute meditation that will take you on an inner journey where you will find peace and deep relaxation.
☆ A powerful way to reconnect to the heart ☆
More info about Kevin James & Susana on their website, kevinjamesmusic.com
Carrie Tree & Kusni Bear
Kusñi Bear & Carrie Tree will take you on a musical journey into the depths of the heart and sharing songs from their journeys with guitars, drums, flute and voices. Inviting us to honestly feel, to align & to celebrate the preciousness of being alive in this powerful time.
"The intention for this concert is to create an intimate connected circle, where we can go deeper into our heart space, and to invite the spirits of music that work through us to bring healing and connection. We'll play also some songs we can all sing together"
We are looking forward to ignite the HeartFire together! More info about Carrie Tree & Kusni Bear on their website, carrietree.co.uk.
Leonie Bos
What a gift that Leonie Bos comes to share her musical medicine with us and give a concert. Especially special because she will release her new album 'Finally Here' during the CampOut. Another birth to celebrate! We look forward to hearing and feeling her new songs and singing our hearts wide so that even more love can flow through.
Ecstatic Dance with DJ's Caroline & Martyn Zy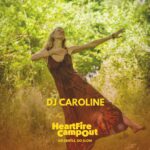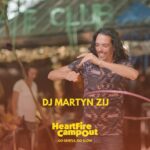 Ecstatic Dance is the perfect way to get out of the buzzing mind and into the body. To let yourself be moved and touched by the music. Caroline and Martyn will take you on a beautiful dancejourney that will open your heart and fire up your spirit. Let's Dance!
Kids Program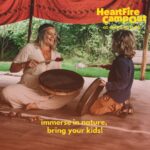 Together with Elske Falkena we also offer a small program for the kids. Elske provides a small children's program with a opening and closing ceremony, children's yoga, making of power sticks, mystery walk, movement and they appear in our open stage program. There is no childcare available. There is a lovely swimming lake where you can also go canoeing, a playground and plenty of grass to play football.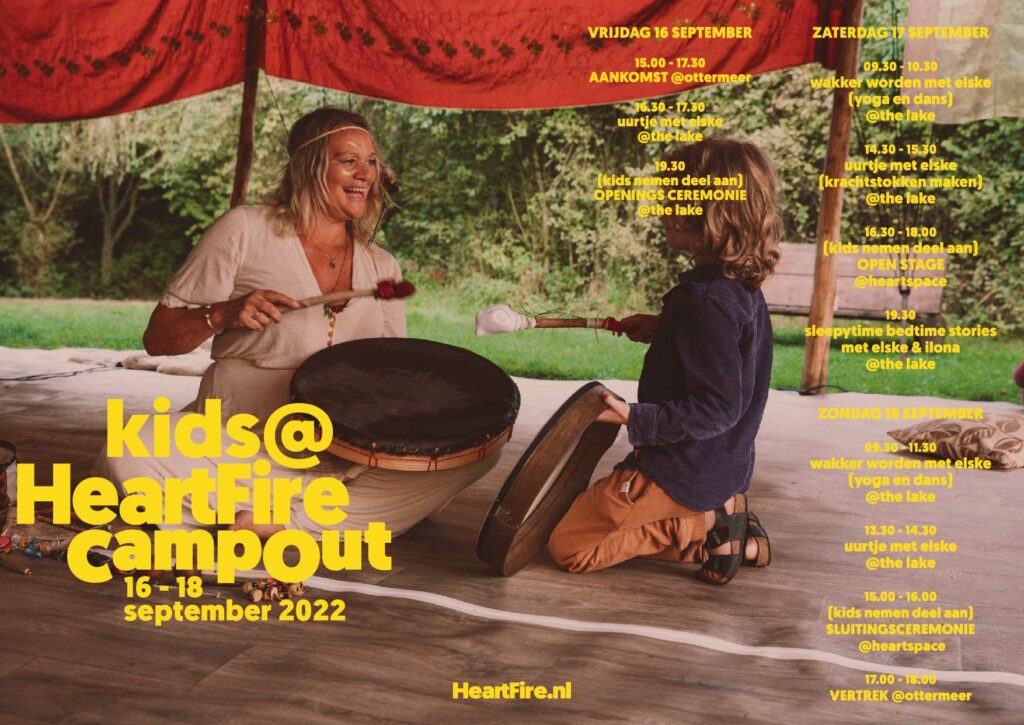 High Chai Tea House
Heel fijn dat de High Chai Teahouse van Ilona Dorgelo en haar Chai Angels weer op de CampOut zal staan met hoogwaardige en biologische producten, homemade Indiase Chai thee, vers gemalen koffiebonen, Yogi thee, Raw- enhuisgebakken taarten en verfrissende authentieke drankjes.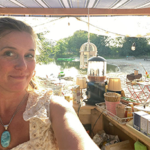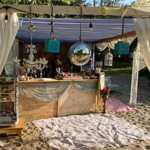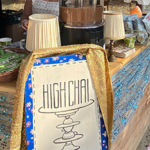 Landgoed Ottermeer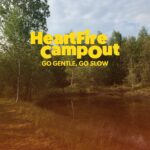 From Dream to Reality. In 2000 Frans and Yvonne bought the Ottermeerhoeve, an old farm with 20 hectares of agricultural land. With the help of Brabants Landschap they have developed and implemented an estate nature plan. Planted 50,000 trees and dug 3 beautiful pools. The mature nature is one of the richest values ​​of our estate.
The camping site is located in the midst of this nature. Their dream was and is to create a nature / paradise environment in which we can develop together in harmony with each other and with nature. It is their life project that they work on with heart and soul daily with their 4 children, supported by friends.
Facilities
We are looking forward to CampOut together at Landgoed Ottermeer! There are camping spots available (no wifi or electricity) and plenty of caravan/camper spots. Don't forget to buy an additional Camper ticket, if you arrive with your own Camper Van. There are clean, warm showers and a beautiful lake for a fresh morning dip!
Don't have your own tent? Or do you prefer a little more comfort? Send an email to camping@ottermeerhoeve.nl to check the availability and prices of the accommodations.
Do you bring your own camper? Don't forget to buy a separate camper ticket.
What to bring
Some things are good to bring with you to the CampOut. Bring your own plate, cutlery, a (soup) bowl and a mug (for a drink). It can get a bit chilly at night so don't forget to bring something that keeps you warm. From last year we heard that a hot water bottle to put in your sleeping bag at night was also appreciated.
And a meditation cushion/sheepskin and a blanket for extra comfort during the evening chanting circle and concert.
Read our newsletter we send to our guest on important practical things, here.
Catering
Landgoed Ottermeer will provide a beautiful breakfast, lunch and a delicious meal for the whole weekend (friday evening diner until sunday afternoon lunch). The food is organic and fresh from the vegetable garden of Landgoed Ottermeer!
If you have diet wishes for the CampOut, fill out this form so we can pass the info on to the Marnix, the cook at Ottermeer. In case you have special wishes check in with the kitchen after you have arrived so Marnix can help you out.
Practical Information
HeartFire CampOut :: Go Gentle Go Slow
with Kevin James & Susana + Carrie Tree & Kusni Bear + Leonie Bos + Ecstatic Dance (DJ Martyn Zij & DJ Caroline) & more magic
Date
16 + 17 + 18 September 2021
Venue Location
Landgoed Ottermeer, Ottermeerweg 2, 4725 PZ Wouwse Plantage
Time
On September 16th our CampOut starts at 15.00, on September 18th our Campout ends at 17.00. Full program will be announced shortly.
Transport
You can find the route description to Landgoed Ottermeerhoeve on their website, here. For public transport, check http://9292.nl/en to plan your journey.
Tickets
Tickets are available here (or below).
Early Bird E 335,- (until August 21st).
Regular Bird Tickets E 360,-
Tickets include meals (breakfast, lunch & diner)
Do you bring your own camper? Don't forget to buy a separate camper ticket.
Facebook
Updates also in the Facebook event page, here. Click on 'attend' in the event and don't forget to invite your friends to the event who'll think will be interested. It helps a lot, thank you!
HeartFire Newsletter
Want to stay informed about our HeartFire events? Subscribe to our newsletter, like our HeartFire page on Facebook and/or on Instagram.