HeartFire CampOut Tuning Into Nature with Curawaka, Kevin James & Susana, Leonie Bos, Ecstatic Dance DJ Anthe Aelea DJ Sefrijn and more magic on September 17 – 19 @Landgoed Ottermeer
Hi dear Heart Travelers,
After a beautiful edition of our first HeartFire Camp Out at the beginning of the Summer of 2021, we love to gather again around the HeartFire and celebrate the beginning of the Autumn season with you all!
Ticketsales just started, here! Early Bird until the radiant full moon of aug 29st. Limited spots available!
You are welcome to go camping with us. Join us for this spontaneous camping gathering with Curawaka, Kevin James & Susana, Leonie Bos, Ecstatic Dance with DJ Anthe Aelea & DJ Sefrijn and more magic on the beautiful natural camping ground Landgoed Ottermeer. A magical place that is created with so much love and in harmony with nature. A little paradise that is welcoming us with open hearts and arms. Together we have set a strong intention to make it happen.
Tickets available here or on our ticketpage. Read our most recent newsletter with all the information in preparation of your departure to the CampOut, here.
We are looking forward to ignite the HeartFire together!
Warmly,
HeartFire: Daniëlle, Jeroen & Team HeartFire
Ottermeer family: Frans & Yvonne, Rachana, Crystal, Jera, Thom and Marnix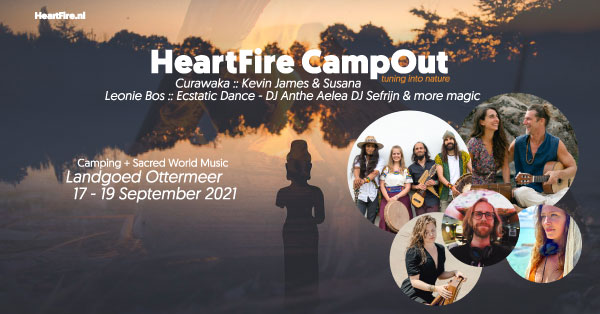 HeartFire CampOut!
HeartFire CampOut is a spontaneous camping experience where you go campout with friends and family in nature. For every edition we invite artists and dj's that have touched our hearts with their music, sacred sounds and vibrant energy. Music and Dance as Medicine!
Sacred World Music | Ceremony | Ecstatic Dance | Singing | Nature | Stillness Connection | Playfulness | Celebrating Life
In this time of transition it is important to come together in a tribe to connect with eachother and to reconnect with our hearts and to lift our spirits high. Together giving shape to the new earth where love and trust resides. Let's gather around the HeartFire and celebrate this wonderful life.
We proudly present: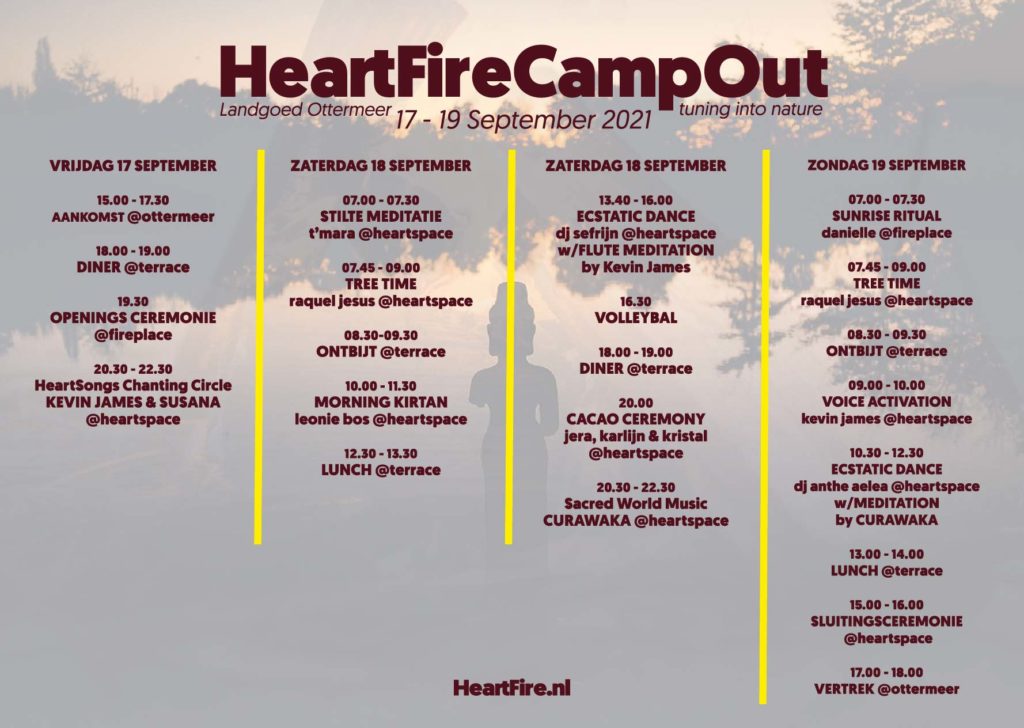 Curawaka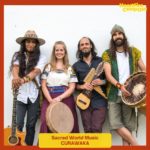 Such a gift that international quintet Curawaka will share their musical medicine with us at the CampOut with a concert and a ceremony. Their music is a doorway to the mystery and connects you with the depth of your soul. Remembering that we are not seperated from eachother and nature but that we are all part of it.
They describe their unique sound as «sacred world music». A respectful yet passionate way of connecting the new with the ancient, the open mind and searching heart with the
spiritual and ritual. The quintet leads us on a journey through the soundscape of the natural world and its native indigenous cultures, invoking a deep memory of something meaningful and profound in most of us.
more info about Curawaka on their website, curawaka.com.
Curawaka have released Call of the Wild and are currently working in the studio with new material for their new album Dreamtime. Support the music directly through their Curawaka Bandcamp Page of listen on Spotify below.
Kevin James & Susana
What a joy that Kevin James & Susana will be again part of the HeartFire CampOut with their HeartSong Chanting Circle. A co-creative and empowering experience that can have you singing your heart out, dancing in bliss and diving deep into the profound silence that follows. Kevin will also share a flute meditation that will take you on an inner journey where you will find peace and deep relaxation. We will open the Chanting Circle with cacao
☆ A powerful way to reconnect to the heart ☆
more info about Kevin James & Susana on their website, kevinjamesmusic.com.
Kevin James & Susana released their latest album in 2021. The album was succesfully crowdfunded by backers all over the world through Kickstarter.
Leonie Bos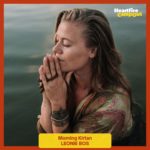 Singer songwriter, Sound Healer & Inner Voice coach, Leonie Bos. From her essence she knows how to bridge the ancient wisdom with her music to these modern times. She sings and plays from her pure heart. Leonie is working on her 2nd album which is scheduled for release at the end of 2021. This album is a manifestation from 1,5 years of The Morning Kirtan. Every month she organises Full Moon singing Circles and during our weekend Leonie will be doing a Campout Kirtan in the morning and on Sunday her Voice of Freedom workshop. Looking forward!
more info about Leonie Bos on her website, leonie-bos.com.
Leonie Bos recorded and released her latest album 'Live & Acoustic' during the lockdown of 2020.
Ecstatic Dance
Ecstatic Dance is the perfect way to get out of the mind and into the body. To let yourself be moved and touched by the music. We have selected two Ecstatic Dance DJ's to play their wonderful music on the dancefloor.
DJ Anthe Aelea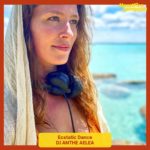 As a DJ the sound of Anthe Aelea is warm, deep, soulful, organic, expansive and refreshing. My sets are inspired by nature and coloured by my love for exotic places, their native cultures, roots and rituals. My music resonates with the moment and provides a musical trip around the world through a dynamic flow of heartwarming world music, electronic infused ethnic beats, folk and tribal grooves, sensual tropical rhythms and mysterious melodies, sometimes even mixing in my own vocals. I love to take a crowd of dancers on a journey beyond time and space.
DJ Sefrijn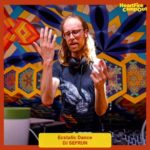 Sefrijn is a dj, musician and creative entrepreneur. In his work he combines expressive playfulness, meditative sound and modern Mysticism (the belief that there is hidden meaning in life or that each human being can unite with God [Cambridge Dictionary]). Growing up his mother was a music therapist, his father a jazz collector and he himself plays the piano from the age of 6. A combination of technical knowledge, creative improvisation and deep sensitivity create unique experiences.
Find him at uplifting dance meditations, conscious festivals, mantra circles, meditative live music or silent retreats. Welcome all colours of life, welcome all of you! Celebrate and meditate with Sounds & Silence.
CampOut Program
We want to create a space where we you are invited to slow down and tune into the nature of your being. Don't expect a full on program as we feel it is important to also have time to rest, play, connect and see what wants to unfold in the moment itself. The magic of this now moment.
To give you a bit of an idea of the different elements of the program, we can share this rhythm with you:
17 Sept 2021
15:00 Arrival at Ottermeerhoeve
Openings ceremony with HeartFire Tribe
HeartSong Chanting Circle with Kevin James Carroll & Susana
18 Sept 2021
Stilte Meditatie & Tree Time
Morning Kirtan with Leonie Bos
Ecstatic Dance with DJ Sefrijn & Meditation with Kevin James
Beachtime | Volleybal | Playfullness
Cacao Ceremony
Ceremonial Concert with Curawaka
19 Sept 2021
Sunrise Ritual & Tree Time
Voice Activation with Kevin James
Ecstatic Dance with DJ Anthe Aelea & Flute Meditation with Curawaka
Beach time | Volleybal
Closing Sacred Ceremony with Curawaka, Kevin James & HeartFire Tribe
17:00 Closing CampOut
Catering (optional):
Landgoed Ottermeer can provide optional a beautiful breakfast, lunch and a delicious meal for the whole weekend. The food is organic and fresh from the vegetable garden of Landgoed Ottermeer!
There is an option to buy a separate ticket for catering for the whole weekend for 75 euro p.p. which includes 2 breakfast, 2 lunch and 2 diners. Of course you can also cook yourself a delicious meal if that fits more.
It will be wonderful to all have diner together on Saturday. The price for the Saturday diner is 17,50 euro p.p. You can order it separately.
Tickets for the CampOut are available here or on our ticketpage.
Landgoed Ottermeer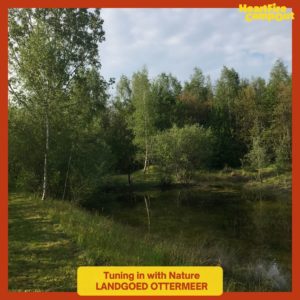 From Dream to Reality. In 2000 Frans and Yvonne bought the Ottermeerhoeve, an old farm with 20 hectares of agricultural land. With the help of Brabants Landschap they have developed and implemented an estate nature plan. Planted 50,000 trees and dug 3 beautiful pools. The mature nature is one of the richest values ​​of our estate.
The camping site is located in the midst of this nature. Their dream was and is to create a nature / paradise environment in which we can develop together in harmony with each other and with nature. It is their life project that they work on with heart and soul daily with their 4 children, supported by friends.
Facilities
We are looking forward to camp together at Landgoed Ottermeer! There are camping spots with electricity available (no wifi) and plenty of caravan/camper spots (at no extra charge). There are clean, warm showers and a beautiful lake for a fresh morning dip!
• ACCOMODATION
Don't have your own tent? Or do you prefer a little more comfort? Send an email to camping@ottermeerhoeve.nl to check the availability and prices of the accommodations (gypsy wagon, yurt)
• BRING YOURSELF
Meditation cushion / sheepskin for the Chanting Circle and blanket for extra comfort. A plate, cutlery, bowl for soup or lunch if you choose for the catering ticket or diner.
Corona
Due to the current circumstances, we will take appropriate precautions into account. There is enough ventilation outside. If you have fever or any other symptoms or complaints or had contact with someone who tested positive with corona within 5 days of the event, please stay safe and at home.
In case we have to cancel the event because of new regulations we will refund everyone the full amount, or full amount minus 5% to help cover the pocket costs if that suits your situation.
Tickets
There are different ticket prices. Tickets available here or on our ticketpage.
CampOut Tickets (CampOut Ticket & Camping spot)
250 euro: Early Bird (until August 29)
285 euro: Regular Bird
75 euro: Full catering (2x breakfast, 2x lunch, 2x diner)
17,50 euro: Diner ticket only
Kids Tickets (5 – 18yrs)
Kids 0-4: Free entrance
100 euro: Early Bird (until August 29)
115 euro: Regular Bird
8,75 euro: Kids diner ticket only
37,50 euro: Kids Full catering (2x breakfast, 2x lunch, 2x diner)
Practical Information
HeartFire CampOut :: Tuning Into Nature
with Curawaka + Kevin James & Susana + Leonie Bos + Ecstatic Dance & more magic
Our most recent newsletter with all the important stuff
Read our most recent newsletter (september 15th) in preparation of your departure to the CampOut, here!
Date
17 + 18 + 19 September 2021
Venue Location
Landgoed Ottermeer, Ottermeerweg 2, 4725 PZ Wouwse Plantage
Time
On September 17th our CampOut starts at 15.00, on September 19th our Campout ends at 17.00. See for full program above.
Transport
You can find the route description to Landgoed Ottermeerhoeve on their website, here. For public transport, check http://9292.nl/en to plan your journey.
Tickets
Ticket sales starts Monday August 2, here or on our Ticketpage.
Facebook
Updates also in the Facebook event page, here.
HeartFire Newsletter
Want to stay informed about our HeartFire events? Subscribe to our newsletter, like our HeartFire page on Facebook and/or on Instagram.