Fia in Concert :: 7 May 2022 @Dominicuskerk Amsterdam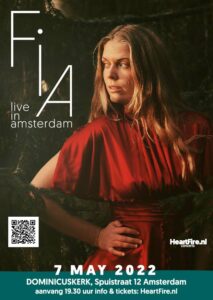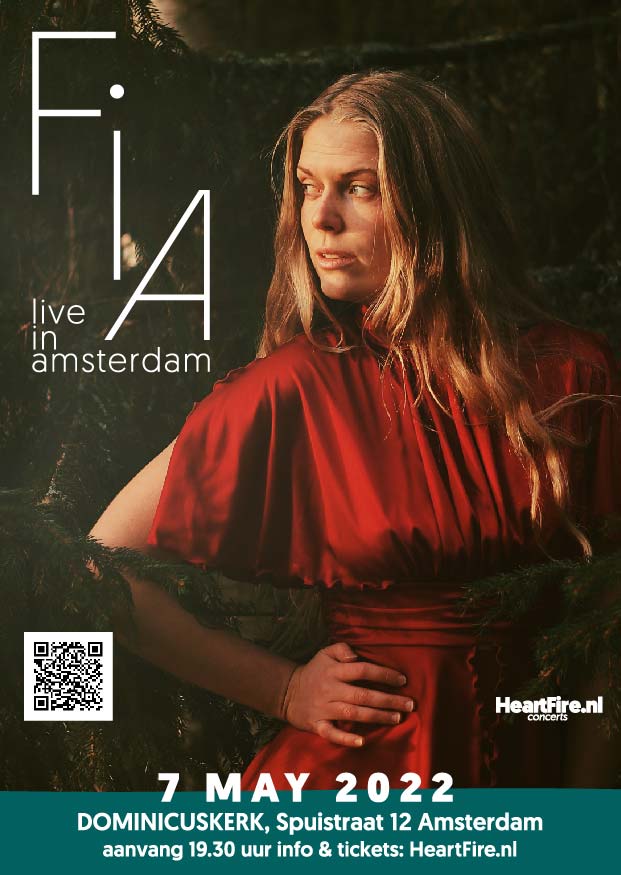 We feel blessed to welcome the Swedish singer/songwriter Fia Forsström back to the Netherlands! With her inspirational lyrics and catchy melodies, Fia has a unique way of weaving music that empowers the listener to drop deeper into themselves and find their own medicine. Since the release of her debut album Fia has been touring world wide and continues to touch hearts wherever she goes and it is with joy she welcomes us into her mystical sphere, devoted to reminding us of our magic.
Tickets are available on April 1st 2022 (10.00 AM), here. Wow! Tickets for this concert were sold out the same day. We're working on a extra concert, more info will follow.
We're working on a extra concert for Fia as this concert was sold out the same day (thank you very much for your interest!!). Sign up for our HeartFire newsletter to get informed in time.
Let's come together and remember!
About Fia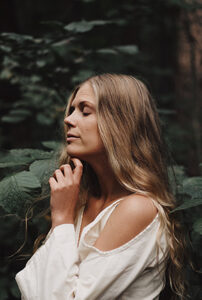 Based in the countryside north of Stockholm, Fia Forsström (known mononymously as Fia) is a folk pop singer/songwriter who with her inspirational lyrics, empowering songs, and catchy melodies quickly enchanted hearts all over world with the release of her solo debut Made of Stars in 2016 which was crowdfunded together with her fans. Building a solid platform through social media and word of mouth, Fia took her place as one of the leading voices on the motivational music scene with Legacy of Light (2017) and Waterfall of Wisdom (2019), both of them recorded and released with the help of her loving listeners.
Fia was born in 1994 in Kista, Sweden. She began playing the oboe and writing songs at the age of 10. During her teenage years she picked up the guitar and piano being part of different ensembles while attending the music program at Westerlundska High School. She released her solo debut "Made of Stars" in 2016 independently with the support of fans, and in 2017 Fia garnered even more widespread acclaim with the follow up "Legacy of Light". At this point Fia was a known name in the spiritual and world music community and her star continued to rise with "Waterfall of Wisdom" released in 2019 which wrapped up the acoustic album trilogy.
In 2020, her music was featured in a meditation app developed by the University of California Santa Barbara Center for Mindfulness and Human Potential, bringing her songs to high school students all over the US.
Music
Fia has released several albums like Made of Stars, Legacy of Light and Waterfall of Wisdom. Her latest release is her new single 'Glorious One'. In December 2021 Fia released her new EP MEDICINE – chants for the modern mystic. This EP was produced, arranged, mixed and mastered by Robert Himlakropp Eklund.
Practical information
Fia in Concert :: 7 May 2022 @Dominicuskerk Amsterdam

Date
7 May 2022
Venue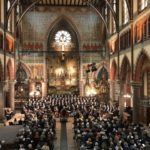 Dominicuskerk, Spuistraat 12 Amsterdam

Time
19:30 (doors open 18:45)
Transport
De Domincuskerk is located 8 minutes walk from Amsterdam Central Station, so nearby parking is not easy and not advised. We advise you to come by public transport or use your bicycle. Use Park & Ride facilities if you come by car to Amsterdam. Check the use of public transport here to plan your journey.
Parking Garage
There are two parking garages nearby:
Parking Centrum Oosterdok, 15m walk, Parking EUR 5,- (for one whole day) if you book early, online otherwise EUR 25,- (dayticket).
Q Park Nieuwendijk, 5m walk (very closeby but expensive), with all the roadworks active in the city centre not easy to get out of the city from this parking after the event ends.
Tickets
Ticketsales starts April 1st 2022 (10.00 AM), here (or below). Wow! Tickets for this concert were sold out the same day. We're working on a extra concert, more info will follow.
Facebook
Updates also in the Facebook event page, here. Click on 'attend' in the event and don't forget to invite your friends to the event who'll think will be interested. It helps a lot, thank you!
HeartFire Newsletter
Want to stay informed about our HeartFire events? Subscribe to our newsletter, like our HeartFire page on Facebook and/or on Instagram.