Sound Transmission Concert with Elie Saz
De Tempel Amsterdam 24 januari 2020
What a joy to open our new HeartFire year with an intimate Sound Transmission Concert with Elie Saz in the magical De Tempel in Amsterdam. It will be the first New Moon of 2020. Powerful & transformational energy! A new year is a good opportunity to take the time to realign ourselves, to reorient our intentions, to let go of the unnecessary loads, and to purify our body and mind.
To easily dive into that space, you are invited to a unique experience where sounds and sensuous music carry you into a healing space through deep relaxation. The music Elie plays has the capacity to transport you to your inner realms where you can meet yourself and enjoy pure presence. Using guitar and voice, Elie creates soundscapes by recording layers of melodies and rhythms with his loop-station, allowing a full range of frequencies to re-align body and mind and nourishing heart and soul.
More info on Elie on his website: https://eliemusic.net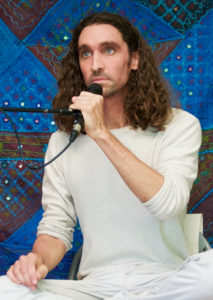 In 2013 my life took a radical turn. At that time I started to be in contact with lots of new information that totally amazed me. Not only because the information was mind-blowing, but also because it happened in a series of extraordinary synchronicities. As I was receiving it, my consciousness was uplifted, my body was shaking, and my whole being was responding with an absolute "yes".
Although the information was diverse and delivered by many different sources, it all seemed to point to the same message:
"All the things you have learned before about yourself and your reality where only meant to prepare you for a new beginning. First, you needed to know the exact energies that you are going to transform. Now, you can loosen your grip on what you think you know and become what you want to create".
From this point forward, many of the things I knew about reality started to dissolve, giving space to a totally new approach of life. Especially in the spiritual area, where many concepts and ideas I had, were gracefully washed away, as I was led to an extraordinary new paradigm of existence.
Even though I had explored different paths that had brought me amazing experiences, I never before felt so intimately connected to the universe. An intimacy that can't be really understood and yet, an intimacy that doesn't require any proof for its existence, a sense of being deeply loved by the universe as I am. A love that doesn't depend on what I do or what I believe. A love that has always guided me towards experiences that were always meant to support me in my growth and evolution, whether I was embracing it or trying to run the hell away from it.
In that same period, my artistic musical soul got into the right field to share a new type of music blended with love, colors, silence, sensual rhythms and magical sounds coming from this new dimension.
In 2013, I created the music for the VBT 16, Glory of the Lotus, one-hour music for meditation, exploring the senses as a gateway to the center of the heart. This precious diamond was refined and polished for a year as I was diving deep into the process of the meditation. There, I began to learn to create the appropriate music to transport the listener into the heart, to reconnect with the wisdom of the soul, and to re-align body and mind with sounds that carry the extraordinary energies of the new paradigm.
Coming from playing bass guitar in rock'n roll bands in Paris, the transition to the music I play now, was totally unexpected. As unexpected as it is for me to be in a position of transmitting the energy of the new consciousness. Yet, I always felt, but could not name it, that I was in some sort of incubation process, being prepared to be part of an extraordinary time of collective awakening, where you are invited to join me along.
Video's
Practical Information
Sound Transmission Concert with Elie Saz
Date
24 January 2020
Venue
De Tempel, Donker Curtiusstraat 15, 1051 JM Amsterdam
Time
19:30 – 21:30 (Doors open at 18:30)
Tickets
Ticketsales will start December 11th 2019, here.
* Early Bird: 25 euro (until January 1st, 2020)
* Regular Bird: 30 euro
Only 35 tickets available due to limited but very cozy space.
What to bring?
We will make it ourselves very comfortable and also lay down so please bring your own yogamat, sheepskin, blanket with you. Starting the new year in full relaxation and bliss! 🙂
Catering
Noëlle from De Tempel will serve a delicious soup for 4 euro before the concert and some yummy drinks and raw sweets.
Travel
De Tempel is located west to the center of Amsterdam, where nearby parking is not advised. We advice you to come by public transport or use your bicycle. Use Park & Ride facilities if you come by car to Amsterdam. Check the use of public transport here to plan your journey.
Facebook
Updates also in the Facebook event page, here.
HeartFire Newsletter
Want to stay informed about our HeartFire events? Subscribe to our newsletter, like our HeartFire page on Facebook and/or on Instagram.