East Forest :: Live in Amsterdam :: 8 November 2022 @Dominicuskerk Amsterdam
HeartFire proudly announces the ceremony concert of East Forest in the majestic Dominicuskerk in the Heart of Amsterdam. Concert meets Ceremony in this multi-level experience, merging live music and guided meditation – including songs from the East Forest collaborative album 'RAM DASS'. Ticketsales has started here.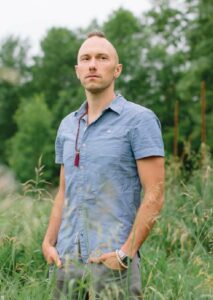 East Forest' Ceremony Concert is an intersection between technology, nature and the human experience — with a brain-body approach aimed towards a non-religious yet deeply spiritual journey — a methodology grounded as much in science as in ritual and ceremony. Sitting or lying down, we co-create a sacred space for release and renewal while enjoying an immersive musical concert – mixing traditional East Forest songs with deep ambient soundscapes. The music and gentle verbal guidance by East Forest will guide you on an inner journey toward the wellspring of wisdom within. Through stillness and tuning into your own self-knowing, you will leave with feelings of tranquility, clarity, and empowerment.
"Affectionate, clear-eyed outpouring of love that wraps its arms around you and squeezes. Not ambient, classical, or drone, but elements of all three." – Pitchfork
About East Forest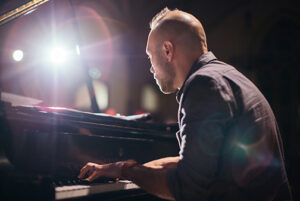 East Forest is a multidisciplinary artist, producer, and international leader in underground sound meditation.  His work explores living authentically within a modern context through an introspective methodology that weaves together elements of electro-acoustic live music, nature, technology, brain science, and guided meditation.  His ceremony-concerts utilize a skilled instrumental repertoire to create space for an emotive inner journey. IN: A Soundtrack For The Psychedelic Practitioner, vol. II is the latest chapter in his ever-evolving career, which includes over 25 albums, including 2019's album-length collaboration with spiritual pioneer Ram Dass, the five-hour-long psilocybin soundtrack Music For Mushrooms: A Soundtrack For the Psychedelic Practitioner, and collaborations with artists Jon Hopkins, Typhoon, Laraaji, Dead Prez, Nick Mulvey, Peter Broderick, DJ ANNA and more. As a trailblazer in the global wellness movement, he offers guided meditations, retreats, a weekly podcast (Ten Laws w/East Forest), and talks that guide students through a brain-body approach aimed towards non-religious and grounded spirituality; he is a faculty member at the Esalen Institute and has worked with Google and Johns Hopkins neuroaesthetics project, UCSF, Wavepaths, Consciousness Hacking, TED, Field Trip Health, is the co-founder of JourneySpace.com, and more.
"Few understand music's importance to human spirituality, rituals, and meditation quite like East Forest." – Output
East Forest's "blissful" (NPR) and "beautiful wash" (Paste) of electro-acoustic orchestral ambient 'soulgaze' can be contextualized along with Aphex Twin, Philip Glass and Sigur Ros. The fundamental mission of his project is to create sonic architecture for others to explore their inner space. As a leader in the field of wellness, he offers a spiritual pathway aimed squarely at the challenges of our contemporary lives. It is a process of opening doorways through myriad offerings with his music as the foundation of the ecosystem. He cross pollinates his work to bring together the intersection between technology, nature and the human experience— with a brain-body approach aimed towards a non-religious yet deeply spiritual personal development; a methodology grounded as much in science as in ritual and ceremony.
Music
You can hear the music of East Forest on Spotify and YouTube. If you would like to support the artist, consider buying the music on BandCamp as you support the artist directly.

Ram Dass and the composer East Forest joined forces for a full length album featuring new teachings from the acclaimed spiritual teacher. In June, 2018 East Forest traveled to Ram Dass' home on Maui, Hawaii for a series of recording sessions to capture fresh contemporary teachings with intentions of creating an immersive musical experience.
The collaborative work features topics around technology, nature, soul, death, psilocybin, the idea of guru, circular thinking, witness consciousness, karma, the mind, as well as classic Ram Dass stories of miracles and his early journeys in India and more.
East Forest composed music to accompany each teaching in a wide range of influences — from contemporary classical to chillwave electronica, electro-acoustic to stripped back piano songs. Featured guests round out the offering to build a diverse and connected listening experience.

Practical information
East Forest Live in Amsterdam :: 8 November 2022 @Dominicuskerk Amsterdam

Date
8 November 2022
Venue
Dominicuskerk, Spuistraat 12, 1012 TS Amsterdam
(entrance to the church is in the Korte Korsjespoortsteeg).

Time
19:30 (doors open 18:30)
Tickets
Ticketsales has started, here.
Transport
De Domincuskerk is located 8 minutes walk from Amsterdam Central Station, so nearby parking is not easy and not advised. We advise you to come by public transport or use your bicycle. Use Park & Ride facilities if you come by car to Amsterdam. Check the use of public transport here to plan your journey.
Parking Garage
There are two parking garages nearby:
Parking Centrum Oosterdok, a 15 minute walk, Parking EUR 5,- (for one whole day) if you book early, online otherwise EUR 25,- (dayticket) if you reserve upfront, with no reservation maximum EUR 37,50.
Q Park Nieuwendijk, a 5 minute walk (very closeby but expensive), with all the roadworks active in the city centre not easy to get out of the city from this parking after the event ends.
Facebook
Updates also in the Facebook event page, here.
HeartFire Newsletter
Want to stay informed about our HeartFire events? Subscribe to our newsletter, like our HeartFire page on Facebook and/or on Instagram.