Deva Premal & Miten and Friends 12 October 2022 Kunstlinie Almere
Deva Premal & Miten World Tour 2022
Deva Premal & Miten and Friends will be with us on two evenings, October 11 & 12, 2022. Ticketsales has started via Kunstlinie Almere.
The concerts of Deva Premal & Miten in 2020 and 2021 are postponed to new dates in 2022, due to the Corona Virus. Tickets remain valid.
UPDATE May 12th, 2021
The concerts of Deva Premal & Miten (originally planned in 2020 and later, due to covid, rescheduled to 2021) are postponed to new dates in 2022, due to the Corona Virus. Tickets remain valid.
With the ongoing COVID-19 pandemic-related event and travel restrictions, Deva Premal & Miten are having to reschedule their US, Canada and European gatherings that were planned for this September – November 2021. All of the dates have already been, or are being, rescheduled to 2022 and tickets will be transferred to these new dates. The US & Canada dates are being rescheduled to May 2022 and the European dates are being rescheduled to September – October 2022.
Deva Premal & Miten :: Celebrating 30 years together
Deva Premal & Miten celebrate 30 years of love, life and music as they embark on their World Tour 2022 accompanied by their great Temple Band (Joby Baker, Spencer Cozens and Miles Bould).
In the year that Deva Premal is nominated for a Grammy award for her album DEVA, and Miten is winning international acclaim for his album Devotee, the couple are once again renewing their special relationship with audiences around the globe through the transcendent medium of mantra.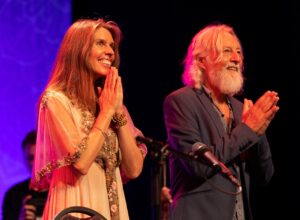 "It's our 25th year of touring," Miten says, "And we will be looking back through our catalogue and playing some pieces from those early times. Celebrating 30 years of music and a loving connection with our audience has been an incredible. We're like family – We have grown together over the years and watched as more and more like-minded souls join the community."
The couple first met at the ashram of Osho (aka Bhagwan Shree Rajneesh) in Pune, India in 1990. She was studying shiatsu, reflexology and massage, he was in the process of transforming his life from jaded rock musician to meditator. Both were on a quest for enlightenment. "We began to sing together in the ashram quite innocently, just feeling our way into the music and how to share what we'd learned in the ashram." Miten recalls.
Using the gifts and disciplines of harmony and meditation they transform concert halls into sacred temples. The word "show" is hardly appropriate or adequate to describe the communal rhapsody that occurs during their events. "There is a portal that we all go through," Miten says. "It's not created just by the musicians and the singers with the microphones. Every one of us is responsible for the evening proceedings and the joy that we take away with us at the end of the evening. For Deva and myself, it's way more than entertainment, it's a matter of life and death. Our gatherings nourish the forward motion of life."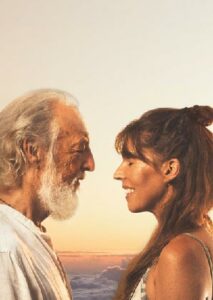 Led by the exquisite, telepathically-entwined harmonies of Deva and Miten, the blend of sensual and spiritual, east-meets-west music they perform at these events has attracted the attention of stars and world teachers. The Dalai Lama, who the duo played for at an exclusive gathering, is known to include their music in his private time, while Cher, an abiding fan of the duo, continues to feature a version of their Gayatri Mantra in her current shows. Meditators, yogis and spiritual misfits attend their concerts along with fans of new age, rock, trance, fusion, classical, Eastern and world music.
Meanwhile, away from the spotlight, Deva and Miten take their music to prisons (including San Quentin), homeless shelters and facilities for autistic children, places where their chanting offers a natural path to ease the heart and bring tranquillity to the troubled mind. "Mantra chanting never fails to uplift the spirit, no matter how disconnected we may feel" Deva says.
In a world of accelerating technical complexity and constant emotional upheaval, going to a Deva Premal & Miten concert is a moment to draw breath, re-connect to a deeper purpose and apply a soothing balm to the spirit.
Deva Premal & Miten and Friends
Deva Premal (vocals, keyboards)
Miten (vocals, guitar)
The Temple Band features
Joby Baker (bass/keyboards/vocals)
Miles Bould (drums)
Spencer Cozens (piano/keyboards)
more information on Deva Premal & Miten, here.
Music of Deva Premal & Miten
The most recent release of Miten The Jungle Sessions is a collection of songs recorded in lockdown by spiritual messenger, musician, singer and composer, Miten. It is the third in a trilogy of albums which began in 2016 with Temple at Midnight, which hit #1 on the Amazon and iTunes world music and new age charts. Miten followed this with his acclaimed Devotee album, released in 2019, featuring life partner, Grammy nominee Deva Premal.
The Jungle Sessions is a record of Miten's extended stay with his musical and life partner Deva Premal in a jungle hideaway in Costa Rica. Recorded at the Blue Spirit Resort, where Miten and Deva were joined by their longstanding production collaborator Joby Baker, songs such as the desperately humorous proclamation of I Need A Beach and the swampy groove of Om Shanti Om capture the spirit of a place where the troubles of the world are placed on the back-burner by the balm of music, mantra, meditation and pristine nature.

The latest release from Deva Premal DEVA, is a calling – beyond the chattering mind, the heaviness of the heart and the numerous distractions of life, into a place of refuge and conscious relaxation. The album is nominated for a 2020 Grammy Award.
The album opens and closes with a spell-binding long form version of Deva's beloved Gayatri Mantra – the Seven Chakra Gayatri illuminates and harmonizes the seven chakras and blesses the seven realms, from the earth plane to the abode of supreme truth – a deeply relaxing mantra sound-bath for body, mind & spirit, ideal for meditation & slow yoga flows.

Practical Information
Deva Premal & Miten and Friends in Concert @Kunstlinie Almere
(Organized by HeartFire.nl & LivingSatsang)

Date
12 October 2022 (there's also a concert on 11 October, see here).
Venue
Kunstlinie Almere, Esplanade 10, 1315 TA Almere-Stad
Time
19:30 – 22:00 (doors open 19:00)
Transport
Kunstlinie Almere is located in the center of Almere. Check the journey planner to plan your journey if you use public transport. Almere is very accessible by train (the venue is a 15-minute walk from Almere Central Station). If you travel by car then parking is very easy in the nearby 'Hospitaalgarage' or 'Schippergarage' (both are a 5-minute walk to the venue). We would appreciate you to consider the use of public transport.
See the route description to Kunstlinie Almere on their website, here.
Tickets
Ticketsales has started via Kunstlinie Almere.
Facebook
Updates also in the Facebook event page, here.
HeartFire Newsletter
Want to stay informed about our HeartFire events? Subscribe to our newsletter, like our HeartFire page on Facebook and/or on Instagram.