Dana Devi :: Doorway to Silence :: in Concert
HeartFire & De Tempel presents:
DANA DEVI – DOORWAY TO SILENCE
CD Release concert 30 May 2019, De Tempel Amsterdam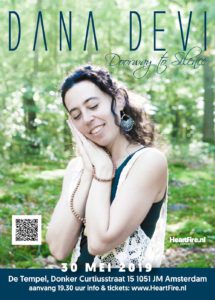 Doorway to Silence – Concert of Sacred Chants for Inner Peace. We gratefully present the release concert of Dana Devi's very first album 'Doorway to Silence' at the beautiful De Tempel in Amsterdam. On this Ascension Day we will fly into the heavens with beautiful music that will touch your heart deeply. Dana's meditative music calms the nervous system, opens the heart and is a doorway to silence.
Her debut album Doorway to Silence is about to be released end of April 2019. An album filled with mantras, words of prayer and devotional songs to re-connect with inner silence. Soothing chants that combine words of prayer in Sanskrit with English affirmations. Her songs are about resting into your own being, to remember that love is our true nature and that we are already whole and complete.
We are looking forward to celebrate the birth of Dana Devi's first album with you!
Music
Dana Devi just released her very first album 'Doorway to Silence'! The album was produced by Praful, with whom she worked with on his album 'Silence Speaks'. During the 2019 Happinez Festival we had a special music stand and the music of Dana Devi got a lot of attention and good reviews.

A Prayer for the Healing (with Praful)
Practical Information
Dana Devi :: Doorway to Silence :: in Concert
Date
May 30, 2019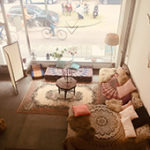 Venue Location
De Tempel, Donker Curtiusstraat 15, 1051 JM Amsterdam
Time
19.30 – 21:00 (doors open 19:00)
Transport
De Tempel is located west to the center of Amsterdam, where nearby parking is not advised. We advice you to come by public transport or use your bicycle. Use Park & Ride facilities if you come by car to Amsterdam. Check the use of public transport here to plan your journey.
Tickets
Ticket sales has started: EURO 20 (click here). De Tempel also offers delicious soup and juices (payment for food only in cash)
Facebook
Updates also in the Facebook event page, here.
HeartFire Newsletter
Want to stay informed about our HeartFire events? Subscribe to our newsletter.