Curawaka in Concert @Dominicuskerk Amsterdam 2 October 2020
HeartFire presents Curawaka Freedom Tour 2020 in Amsterdam. What a honor and pleasure to organize and hold space for the ceremonial concert of Curawaka! Tickets starts September 15 2020 at 09.09 AM, here (for the afternoon concert), or here (evening concert). Please share with your friends.
Afternoon Concert:

Evening Concert (SOLD OUT):
We fell in love with the majestic Dominicuskerk in the Heart of Amsterdam where we also organized the concert of Laboratorium Piesni. So much love and beauty.
A Heart-opening journey
International quartet Curawaka invites us on a journey through the soundscape of sacred world music, a unique lush sound coming from the love of the natural world and its ancestral native cultures. Deeply rooted in the sounds and frequencies of the wild heart, Curawaka explore the very essence of ritual song and let it unfold in soaring and groovy Latin American folk rhythms.
Vocalist Anna Bariyani sings in seven languages, including Hatcha Kuin, Yawanawa, Sami, Spanish, Portuguese, English and her mother tongue, Norwegian. Their live show is a heart-opening and soul-nourishing journey through jungles and deserts, mountains and forests; through emotions and memories, with a strong prayer pulsating at its core, a prayer for humanity and for Mother Earth.
Through their musicianship, creativity and connection to the sacredness of nature, Curawaka touches something deep within us, reminding us of something deep, ancient, precious, something beautiful, magical, and indeed, sacred.
Freedom Tour 2020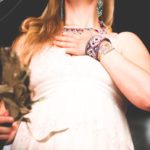 Curawaka is visiting a handful of countries in Europe on their Autumn 2020 Freedom Tour, presenting brand new material from their upcoming album Dreamtime, as well as sharing their celebrated songs such as Noku Mana, He Yama Yo and Te Nande, from their debut album Call of the Wild (2018). And now also in Amsterdam!
Line up 2020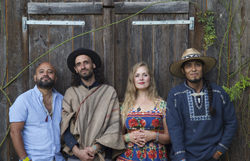 Anna Bariyani (Norway) : vocals, guitar, hand drum, shakers
Tavo Vazquez (Argentina) : charango, quena, sikuri flutes
Alberto Arroyo (Mexico) : acoustic & electric guitar, bass
Rafael Ayala Silva (Colombia) : percussion
Music
Curawaka have released Call of the Wild and are currently working in the studio with new material for their new album Dreamtime. Support the music directly through their Curawaka Bandcamp Page of listen on Spotify below.
Practical Information
Curawaka in Concert @Dominicuskerk Amsterdam
(Support Opening by Jennifer Ann)

Date
2 October 2020
Venue Location
Dominicuskerk, Spuistraat 12, 1012 TS Amsterdam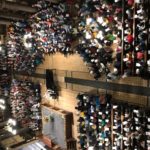 Time
Afternoon Concert 15:30 – 17:30 (doors open 15:00)
Evening Concert 20:00 – 22:00 (doors open 19:30) – SOLD OUT
Tickets
Ticketsales starts on September 15th 2020 at 09.09AM here (afternoon concert) or here (evening concert).
Afternoon Concert:

Evening Concert (SOLD OUT):
Travel information
De Domincuskerk is located 8 minutes walk from Amsterdam Central Station, so nearby parking is not easy and not advised. We advise you to come by public transport or use your bicycle. Use Park & Ride facilities if you come by car to Amsterdam. Or check Parkeergarage Oosterdok (tip: reserve your parkingspot before!) which is quite nearby. Check the use of public transport here to plan your journey.
Facebook
Updates also in the Facebook event page, here (afternoon concert) or here (evening concert).
HeartFire Newsletter
Want to stay informed about our HeartFire events? Subscribe to our newsletter, like our HeartFire page on Facebook or on Instagram.