Carrie Tree in Concert The Canoe Album Launch Tour Amsterdam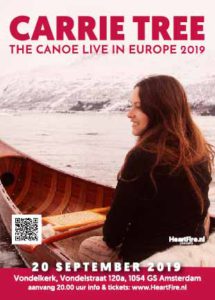 We feel blessed to welcome the phenomenal acoustic folk soul singer/songwriter Carrie Tree for an evening of musical delight. Carrie will be sharing songs from her new album 'The Canoe' as well as a few familiar favourites, and will also have her new album available, fresh off the press!
"I am excited to say that my album is finally being released! This album was largely made possible by the generosity of people supporting my crowdfunding campaign and is an independent release. After many unforeseen twists, turns and beautiful adventures, there is definitely a good excuse for celebration for it's birth! I would love to share this evening with you" Carrie
We are looking forward to celebrate the birth of her new album with you!
About Carrie Tree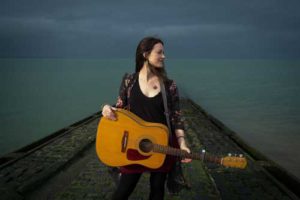 UK-based acoustic folk soul artist Carrie Tree has travelled through many parts of the world with her music, stirring and softening hearts along the way. Carrie has been a known name in the UK's grassroots music scene for over a decade, whilst also touring at many festivals, retreats and concerts across Europe, and she has played regularly at UK festivals such as Glastonbury, Into The Wild and Cambridge Folk Festival.
She has collaborated live and in the studio with the likes of Damien Rice, Fink, Albert Mazibuko (Ladysmith Black Mambazo), Carly Simon, Rumer, Martha Tilston and Andy Barlow (Lamb).
"One of the most natural voices you may ever hear" XYZ Magazine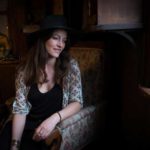 In true nomadic style, Carrie has spent her entire adult life travelling the world with her music, stirring and softening hearts along the way. With an uncanny ability to reach into the traditions of the lands she visits, she touches a place deep inside the hearts of her listeners wherever she performs.
She has co-produced and released three studio albums, The Kitchen Table, Home to the Invisible and here most recent third release The Canoe this year with producer Markus Seiber (Aukai/Mirabai Ceiba).
More on Carrie Tree on her website: carrietree.co.uk.
Music
The most recent release of Carrie Tree is a beautiful new album The Canoe. Beautiful songs set in a wonderful production of Markus Sieber (Mirabai Ceiba/Aukai).
Practical information
Carrie Tree in Concert @Vondelkerk Amsterdam
Date
20 September 2019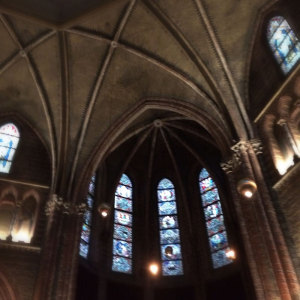 Venue Location
Vondelkerk, Vondelstraat 120a, 1054 GS Amsterdam (ingang t/o Vondelpark)
Time
start time 19:30 (doors open 19:00)
Transport
Vondelkerk is located in the center of Amsterdam, where nearby parking is not easy and not advised. We advise you to travel by public transport or use your bicycle. Use Park & Ride facilities if you travel by car to Amsterdam. Check the routedescription and use of public transport here to plan your journey.
See the route description to Vondelkerk on their website, here.
Tickets
Ticket sales has started here or check the direct link here. Tickets are 25 euro.
Facebook
Updates also in the Facebook event page, here.
HeartFire Newsletter
Want to stay informed about our HeartFire events? Subscribe to our newsletter or like our HeartFire page on Facebook.