Ayla Nereo in Concert An Evening Of Hope And Vision
HeartFire & Delight Yoga warmly welcome you to the concert of the magical and enchanting Aya Nereo coming for her debut performances in Amsterdam! She will also hold a wonderful workshop on Jul 1st also at Delight Yoga Studio. All info below or on Facebook, here. Combitickets available. Ticketsales has started, here.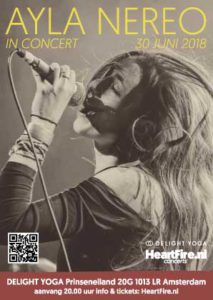 The concert is a rare solo performance. This evening will feature her stunning voice, live loop-pedal magic, guitar, and instrumental accompaniment., This promises to be a very special and intimate evening, music that touches your heart and lyrics to inspire your vision.
"One of the most poignant voices currently floating about… Ayla Nereo is an otherworldly artist who shares the fruits of her soul." ~ The Huffington Post

"[Ayla's] relationship with the earth is imprinted in her music… expansive and intriguing." ~ Billboard
Ayla Nereo will also give a workshop, on July 1. For more info on that event, see here.
About Ayla Nereo
The voice of Ayla Nereo hits straight to the heart. With an array of loop-pedals by her side, she builds layer upon layer of vocal melodies into fierce, sweeping harmonies and weaves syncopated threads of guitar, kalimba, piano, and percussion into each live performance. Her lucid storytelling and lyrical imagery are water for the thirsty soul; words and sounds that crack open the heart, and embody the many folds of our own selves.
Raised on opera, 60s folk, and psychedelic rock, Ayla's music touches both the timeless and modern; where prayerful circle songs, mantra, and roots music meet ancient beats and folktronica. Crafting an immersive soundscape we can dive into, Ayla's performances are each their own inspired journey; an enchanting and poignant experience that holds you by the heart and doesn't let go.
Music
Ayla has released several albums through the years. On her site on Bandcamp, you can listen to her music and support her directly.
Practical information
Ayla Nereo, in Concert.
looking for information about the workshop of Ayla Nereo on 1 July? See here.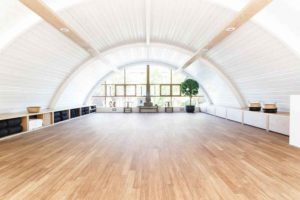 Date
30 June 2018
Venue Location
Delight Yoga, Prinseneiland 20G, 1013 LR Amsterdam
Time
start time: 20.00
Transport
Public transport: Check http://9292.nl/en to plan your journey.
By car: there is very little parking space, we advise you to use public transport or use your bicycle. See for more information about parking solutions in Amsterdam, here.
Tickets
Concert Ticket: 25 euro
Workshop Ticket: 35 euro
Combi Ticket (concert & workshop): 55 euro
Ticket sales has started, here.
Facebook
Updates also in the Facebook event page, here.
HeartFire Newsletter
Want to stay informed about our HeartFire events? Subscribe to our newsletter or like our HeartFire page on Facebook.