Ajeet Live in Amsterdam Blooming Tour 2022 :: 1 October 2022 @Theater Amsterdam (Sold Out)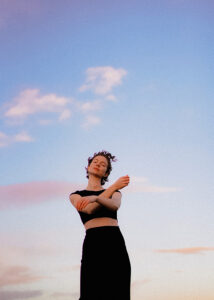 We feel grateful to welcome back to Amsterdam, the amazing Ajeet with her new tour Blooming. This event is already Sold Out, If you have bought tickets before/during the pandemic, your ticket is valid for this date (October 1st).
UPDATE July 23th 2021
The concert of Ajeet has been rescheduled to October 1st 2022. Under the current Covid measures in different EU countries, touring is still very difficult (to say the least) so we dediced to reschule. All tickets bought stay valid for this new date. We hope to see all of you on the new date!
A message from Ajeet:
We are elated to announce that Ajeet and her band will be returning to tour in 2022! Tour dates from the European tour have been rescheduled with much anticipation of a joyous, safe and magical reunion with all of our beloved community!

Current tour dates for 2022 are announced, with certainty of additions, surprises, and much more still to come!
Ajeet, Aisling, Raffa & Sam can't wait to meet you in song again soon!
Ajeet is joined by Raffa Martinez on percussion, Aisling Urwin on harp and Sam Killeen on guitar. After the sold-out concert in 2019 we moved to a bigger venue this year, Theater Amsterdam. A beautiful theater in the western part of Amsterdam.
After a surreal time for us all and pause from touring, we emerge from hibernation ready to bloom into a new beginning. Join Ajeet for an evening of ambient meditative spaces, intimate poetry and mystical realms through a truly original musical journey. Accompanied by Sam Killeen on guitar, Aisling Urwin on harp, and Raffa Martinez on percussion, allow yourself to be carried into a space of deep connection. Let your voice join with many in a call for healing, a return to ritual and a sense of peace through song.
Join Ajeet and her band as they weave together ancient rhythms and melodies, deep meditative spaces and heart-opening songs to bring you on a journey through music. Let your voice join with many in a call for healing, a return to the ancient ritual of prayer through song. With her beautiful voice & her radiant presence she will touch your soul deeply and set your heart on fire. More info on Facebook here.
Ajeet has released new music, below you'll find her new video of the track 'Blooming'.
The video below was released on July 23rd 2021 to celebrate the release of Kiss the Earth Live:
The video clip below was shot during her concert in Amsterdam we organized in 2019.
Blooming!
After a surreal time for us all and pause from touring, we emerge from hibernation ready to bloom into a new beginning. Join Ajeet for an evening of ambient meditative spaces, intimate poetry and mystical realms through a truly original musical journey. It is their third European Tour and they are just as excited as we are!
'From the first note, Ajeet's voice feels like the warmth of the earth rising through your body, creating a sense of inexplicable peace that helps you suddenly relax in a knowing that you are connected to every living being through this sacred sound.'
About Ajeet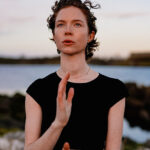 Ajeet is a world music artist weaving inspiration from traditional folk to mystical and meditative soundscapes. The band come together from Spain, Ireland and the United States to offer a musical experience which transcends boundaries and takes listeners on a journey through melody and sonic texture. Many experience Ajeet's music as healing, rejuvenating, and a place of deep connection.
Collaboration is central in her work, and some of her collaborators include Trevor Hall, Aisling Urwin, Sukhmani Rayat, Rising Appalachia, Snatam Kaur, Seamus Egan and Peia. Her creative process extends beyond live performance to her recording studio, where she produces and engineers her own work and others.
Celebrated as #1 on the iTunes World Chart and Billboard Top 10 New Age Chart, Ajeet's music continues to be embraced by communities across the globe.
Ajeet will be joined live by Raffa Martinez (percussion), Sam Killeen (guitar) and Aisling Urwin on harp.
Raffa Martinez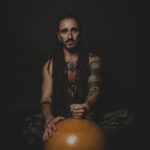 Raffa Martínez is a multi-instrumentalist from Spain, with a deep mastery of world percussion. His sensitivity and joyful presence is celebrated throughout the world, touring with artists such as Ajeet, Tina Malia, Peia, and Nessi Gomez. Raffa has studied music as it weaves together with Shamanistic practices across the globe. Some of his most in depth study and experience has been across Africa and South America. Raffa is a songwriter, musician, and recording artist on his own and with his band Shaman Laika.
Sam Killeen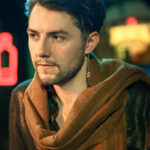 Sam Killeen is a professional guitarist, composer, producer and musical director from Dublin, Ireland. He is regularly performing & touring in theatres, festivals, television, radio, recording in studio and on stage with many different artists in a multitude of genres, including James Vincent McMorrow, Villagers, Lisa Hannigan, Saibh Skelly, Síomha, The Divine Comedy (Neil Hannon), The Scratch, and Wallis Bird.
In 2021 Sam released his debut album Jetlag under the moniker SENU, a home for his unique blend of electronic beats, jazz & hip-hop. With his original music, he has supported acts such as Mark Guiliana,  Evan Marien & Cory Wong (Vulfpeck). He also  arranged and conducted strings for Irish act The Scratch  on their live album anniversary show.
Aisling Urwin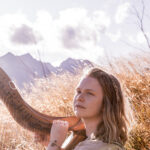 Aisling Urwin is a harpist and songwriter from the seaside town of Kenmare in the mountainous South West of Ireland. Aisling aspires to use the harp in a contemporary context, challenging traditional views in an effort to stretch people's preconceptions about what the harp should sound like. She is also passionate about the powerful healing properties of music and sound. Aisling often sings in the ancient Irish traditional Sean Nós style('Sean Nós' meaning 'old style'). Her work reflects the sounds of today's youthful modern Irish traditional music, an ever evolving tradition. Aisling's music combines the organic sounds of lever harp and natural vocals with rich electronic sounds and textures. Her fifth album The Dragonfly Jig came out in 2019.
Music
Ajeet has released five albums, which have been celebrated as #1 on the iTunes world chart, and Billboard Top 10 new age chart. Her band members and collaborators help to weave the web of her songs both live in concert and in her released music.
In Autumn of 2022 Ajeet is releasing new music in the run-up to her new album 'Blooming:

Her 2019 album Indigo Sea is a love-labor which was self-recorded and crowd- funded by her fans and supporters.

On August 14, 2020 Ajeet released a new EP, 'Lunar Moon'

On January 8th 2021 Ajeet released a new album, together with Aisling Urwin, as Woven Kin. You can listen to their new album 'Hibernate' on Spotify.

In 2022 Ajeet also released a new song with the collaboration of Peia and Nessi Gomes:
Practical Information
Ajeet – Blooming Tour 2022
Support Opening by David Howley & Sean O'Sullivan

Date
October 1, 2022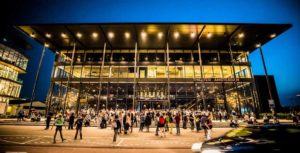 Venue
Theater Amsterdam, Danzigerkade 5, 1013 AP Amsterdam
Time
19:30 (doors open at 18:30)
Meet & Greet Ticketholders
The meet & greet with Ajeet & Band starts at 17.45, the doors will open for you at 17.15 (this is only available for meet & greet ticketholders).
Tickets
This event is SOLD OUT.
Merchandise
Cds will be sold in the lobby. There is no pin machine available, please bring cash.
Public Transport
From Amsterdam Central, bus 48 or 248 stops at the end stop Koivistokade at Theater Amsterdam. You get off at the corner of Koivistokade and Danzigerbocht. Travel time from Amsterdam Central Station is approximately 25 minutes.
The departure stop for buses 48 and 248 is located on the IJ side of Amsterdam Central Station. From the Kovistokade stop it is about a 2 minute walk to the entrance of Theater Amsterdam.
Check the Routedescription and use of public transport, here.
Car Parking
You can park in the parking garage Minerva Parking located next to Theater Amsterdam. The entrance is located at the intersection of Koivistokade/Minervahavenweg (1013AP) in Amsterdam. The costs of this parking are € 2.50 per half hour or € 30,- for a whole day from Monday to Saturday. On Sundays the costs are € 3 per hour or € 20 for a whole day.
Other options for parking garages near the Theater Amsterdam:
Houthaven Parking, info here.
Parking Minervahaven, info here.
or choose Parking Centrum Oosterdok located near Amsterdam Central Station, info here. From here you have to take public transport to the venue (circa 25 minutes).
Check the Routedescription and use of public transport, here.
Park & Ride
You can also park your car at a Park & Ride, if you want to save some parkingcosts.
Facebook
Updates also in the Facebook event page, here.
HeartFire Newsletter
Want to stay informed about our HeartFire events? Subscribe to our newsletter, like our HeartFire page on Facebook and/or on Instagram.