Ajeet in Concert
Rhythm of the Ancients Worldtour
1 October 2022 Theater Amsterdam
We feel grateful to welcome back in Amsterdam, the amazing sacred chant artist Ajeet with her new tour Rhythm of the Ancients. Ticketsales has started, click here for tickets or press the button below.

UPDATE July 23th 2021
The concert of Ajeet has been rescheduled to October 1st 2022. Under the current Covid measures in different EU countries, touring is still very difficult (to say the least) so we dediced to reschule. All tickets bought stay valid for this new date. We hope to see all of you on the new date!
Today is also the release of 'Kiss The Earth (La Luna) Live in Europe'. A wonderful perspective in looking forward to the concert. You can listen to the song, here.
A message from Ajeet:
We are elated to announce that Ajeet and her band will be returning to tour in 2022! Tour dates from the European tour have been rescheduled with much anticipation of a joyous, safe and magical reunion with all of our beloved community!

Current tour dates for 2022 are announced, with certainty of additions, surprises, and much more still to come!
Ajeet, Ezra, Aisling and Raffa can't wait to meet you in song again soon!
Ajeet is joined by Raffa Martinez on percussion, Aisling Urwin on harp and Ezra Landis on guitar. After the sold-out concert in 2019 we moved to a bigger venue this year, Theater Amsterdam. A beautiful theater in the western part of Amsterdam.
Join Ajeet and her band as they weave together ancient rhythms and melodies, deep meditative spaces and heart-opening songs to bring you on a journey through music. Let your voice join with many in a call for healing, a return to the ancient ritual of prayer through song. With her beautiful voice & her radiant presence she will touch your soul deeply and set your heart on fire. More info on Facebook here.
The video below was released on July 23rd 2021 to celebrate the release of Kiss the Earth Live:
The video clip below was shot during her concert in Amsterdam we organized in 2019.
Sacred Chant Concert | Rhythm of the Ancients
With her beautiful voice & her radiant presence she will touch your soul deeply and set your heart on fire. It is their third European Tour and they are just as excited as we are!
'From the first note, Ajeet's voice feels like the warmth of the earth rising through your body, creating a sense of inexplicable peace that helps you suddenly relax in a knowing that you are connected to every living being through this sacred sound.'
An evening full sacred chanting. Buy your tickets, here.
Ajeet will be joined by Raffa Martinez (percussion) and Ezra Landis (guitar) and Aisling Urwin on harp.
About Ajeet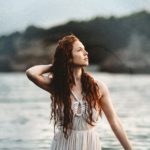 The music of Ajeet is a meeting of rivers. Her love of yoga, meditation and sacred music meets her upbringing with traditional Irish music and her unwavering love of poetry through song.
Growing up in a musical and eclectically spiritual home in both New Hampshire and Dublin, Ireland, music has always been present. Ajeet found her way to the magic of sacred music at a young age, leading her to fall in love with the songs, stories and sense of mystery in the sacred traditions. Her music has taken her all over the world, sharing song and healing in communities across the globe. Collaboration is central in her work, and some of her collaborators include Snatam Kaur, Trevor Hall, and Peia.
Ajeet will be joined live by Raffa Martinez (percussion), Ezra Landis (guitar) and Aisling Urwin on harp.
Raffa Martinez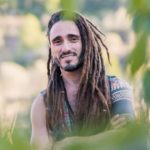 Raffa is a percussionist, songwriter, and ceremony holder from Barcelona, Spain. He has traveled learning both the rhythms and instruments of communities around the world, and the ceremonies that keep them connected. He now shares his music and his practice as one, holding retreats, touring and sharing what he has gathered. Knowing Raffa has been a huge blessing for me both musically, and in the space he carries with him. His presence always lets me relax into our concerts as if they were no different than a ceremony. Touring with him and having him on the new album Indigo Sea are an incredible gift.
Ezra Landis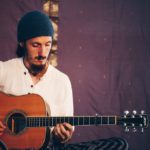 Ezra grew up in a home full of music in the mountains and forests of New Hampshire. A self-taught guitarist, Ezra has become a much loved instrumentalist for many touring artists, and has been featured on countless albums. I met Ezra when we were teenagers, and somehow we just kept playing together until it became our work, our life. Ezra has been an incredible musical support in my career, and on my albums. His friendship and our musical bond is a profound gift to my life and to the new album Indigo Sea.
Aisling Urwin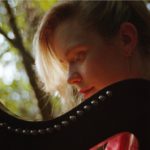 Aisling Urwin is a harpist and songwriter from the seaside town of Kenmare in the South West of Ireland. Her broad range of musical influences range from Kate Bush to Bon Iver to Jeff Buckley. Aisling aspires to use the harp in a contemporary context, challenging traditional views in an effort to stretch people's preconceptions about what the harp should sound like.
Music
Ajeet has released five albums, which have been celebrated as #1 on the iTunes world chart, and Billboard Top 10 new age chart. Her band members and collaborators help to weave the web of her songs both live in concert and in her released music. Her 2019 album Indigo Sea is a love-labor which was self-recorded and crowd- funded by her fans and supporters.

On August 14, 2020 Ajeet released a new EP, 'Lunar Moon'

On January 8th 2021 Ajeet released a new album, together with Aisling Urwin, as Woven Kin. You can listen to their new album 'Hibernate' on Spotify.

Practical Information
Ajeet – Rhythm of the Ancients Worldtour

Date
October 1, 2022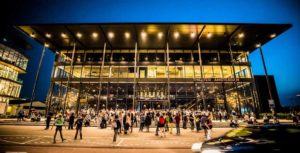 Venue
Theater Amsterdam, Danzigerkade 5, 1013 AP Amsterdam
Time
20:00 – 22:00 (doors open at 19:00)
Tickets

Ticketsales starts for our newsletter readers on December 24th 2019 at 09:09! This is a special ticket pre-sale for our newsletter readers. As from Saturday december 24th 11:11, tickets will be available in general. We have 2 seats available for users of a wheelchair (send a message to Danielle for a special ticketlink).
Click here for tickets (link will open in a new window) or see below.

Tickets available in different price categories: 65 – 55 – 50 – 40 – 35 (including costs)
Children under 3 years (no chair): free
Children age 3 – 11 years: 17 euro (including costs)
Children between 12 – 18 years: 50% reduction
The reduction for children (17 euro or 50%) is not valid on Magenta en Blue category tickets.

Merchandise
Cds will be sold in the lobby. There is no pin machine available, please bring cash.
Travel
Theater Amsterdam is located west of the center of Amsterdam. From Amsterdam Central Station citybus 48 and 248 will take you in 13 minutes to busstop Koivistokade. From there it is a 3 minute walk to the theatre. You can also park in the parking place on the cross Koivistokade/Minervahavenweg (5 euro per hour). Routedescription and use of public transport, here.
Park & Ride
You can also park your car at a Park & Ride. You can park for 1 euro at P+R Sloterdijk and take bus 22 to Zaanstraat if you want to save some parkingcosts.
Facebook
Updates also in the Facebook event page, here.
HeartFire Newsletter
Want to stay informed about our HeartFire events? Subscribe to our newsletter, like our HeartFire page on Facebook and/or on Instagram.