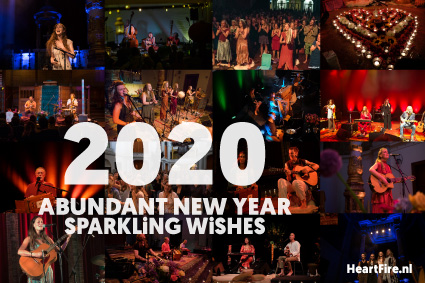 2020 Sparkling Wishes for an abundant New Year from HeartFire
From HeartFire we wish you and your loved ones, near and dear, close or far, an abundant new year 2020!
We are in the last hours of 2019. What an amazing year it has been for HeartFire. We organized 18 events with beautiful artists in 6 wonderful venues. Thousands of Hearts on Fire. We feel Blessed. Thank you all for joining the concerts and for singing your Heart wide open.
May 2020 bring you much Love, Courage, Inner Peace, Authenticity, Community and Playfulness with lots of Sacred Music and HeartChants. Together Birthing a New World where Love Leads the Way. We are looking forward to a new year full of Musical Magic and Beautiful Encounters! Would be wonderful to see you at one, or two, or tree… of our concerts. 🎶🔮